Features and benefits of the Layer2 Knowledge Management Suite for SharePoint
SharePoint comes with a great API for content classification and metadata search - but the default user interface is very limited. The Layer2 Knowledge Management Suite for SharePoint bridges this gap and enables the potential features and benefits for end users to make it as easy as possible to use SharePoint for corporate knowledge management. Take a look at the features and benefits below to learn more.
Better manage the SharePoint Term Store
Export, import and update SharePoint Term Sets to / from external systems and apps via SKOS/XML without losing existing metadata assignments. Make use of flexible options for term insert, update, and delete operations. The Layer2 Taxonomy Manager can be used for SharePoint Term Store backup, deployment, or integration with taxonomy-related 3rd party tools and databases. Commercially available taxonomies are typically delivered in SKOS format. Simply select the root node for a new Term Set, pick the file, and import to the SharePoint Term Store. Learn more in the Layer2 Taxonomy Manager product video.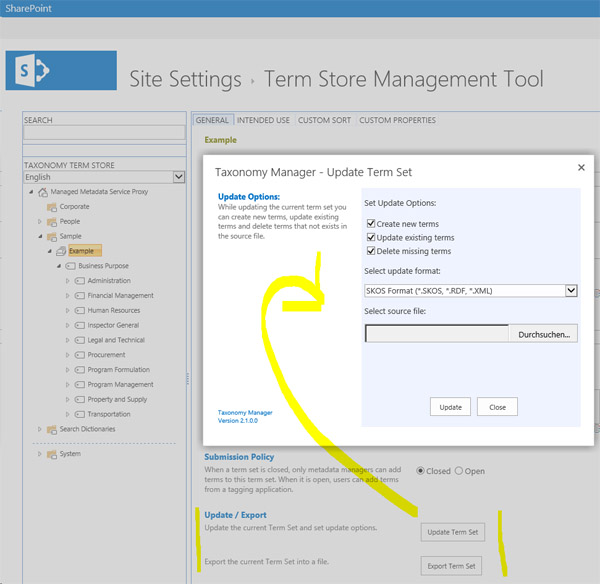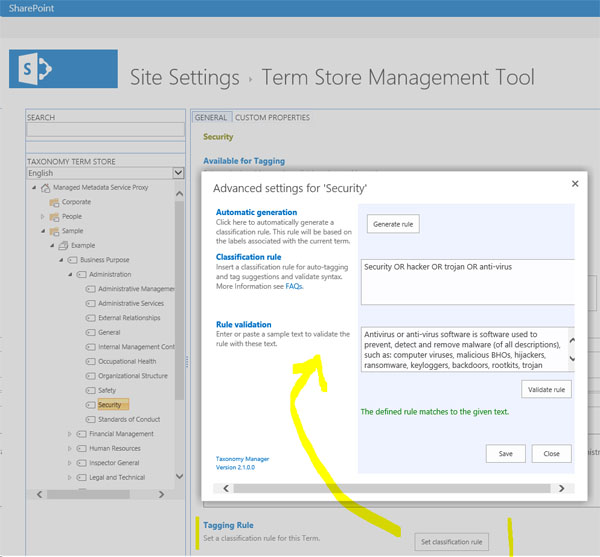 Add content classification rules to SharePoint Terms
Enrich your terms by optional, flexible content classification rules based on synonyms, regular expressions (REGEX), and logic to better classify your content by managed metadata assignment. Define rules to describe when to assign a specific term to content. Rules can access document or item titles, descriptions, sites, links, and more specific metadata, but also the document body via IFilters. Document types, such as Word, Excel, PowerPoint, or PDF are supported out-of-the-box. More document types, such as images or AutoCAD, can be added via 3rd party IFilters. An auto-generating feature helps to finalize your rules. Rules can be fired against text for verification and improvement. While often not required, rules can highly improve the accuracy of content classification.
Auto-Tag your SharePoint documents and items
The Layer2 Auto Tagger comes with a powerful Microsoft .NET based content classification engine that can be used to assign appropriate managed metadata terms automatically and with high performance to your SharePoint items and documents - without any user interaction. Auto-tagging, in real-time during document upload - or in background as bulk-tagging, can highly increase the speed and accuracy of content findability.
Assign managed metadata automatically in real-time
Classify list items and documents for better findability by assigning appropriate managed metadata automatically and consistent in real-time, during document upload or modification. Users don't have manage this: no subject knowledge required, no additional effort for tagging. Simply enable "Assign Managed Metadata Automatically" in the SharePoint list or library settings.
Assign managed metadata via bulk-tagging
Classify your SharePoint content by assigning relevant managed metadata automatically via bulk-tagging, for example after content migration from other systems, or after taxonomy changes. You can run the classification as a SharePoint Timer Job in background with low priority, flexible intervals and certain scopes, such as lists, libraries, sites, site collections, or specific content types. Please watch the Layer2 Auto Tagger product video to know more about bulk-tagging.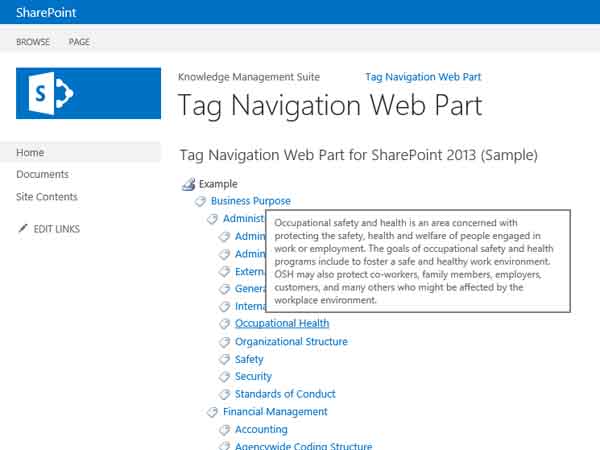 Add additional navigations to discover your content
Benefit of managed metadata assignments by adding additional, tree-style, search-driven navigation web parts to simply browse your knowledge by taxonomy terms. You can very flexible set the start node, behavior (static or dynamic loading of sub-trees), linking ( to search query or wiki page), and style (via XSLT). Users can simply find specific content by browsing the taxonomy, They don't have to know where the content it is located in SharePoint. Take a look at the Layer2 Tag Navigation product video to learn more.
Add a glossary or subject index to your SharePoint portal
Any technical book has a subject index. Why not your SharePoint portal? Add a term glossary or alphabetically grouped subject index to improve content findability and foster a common corporate language in your enterprise with the Layer2 Tag Directory Web Part. You don't know what Sarbanes-Oxley is and where to take a look? Simply find the appropriate links to tagged, relevant content under the letter S! Learn more and take a look at the Layer2 Tag Directory product video.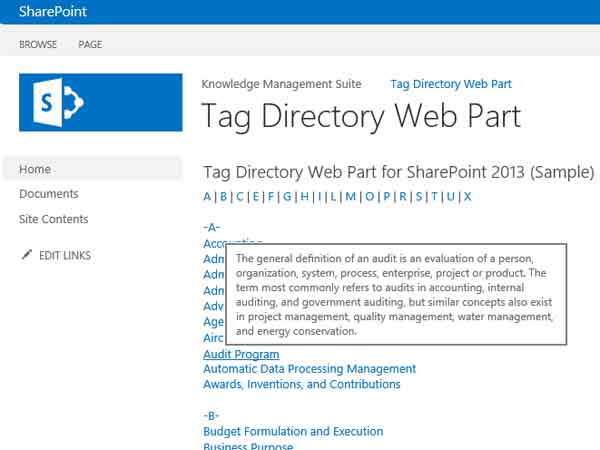 Add Tag Clouds to render terms by importance
Tags can be rendered in a cloud with different size, color, or other style by importance, means how often a tag is assigned to items and documents. The links can trigger a search for the content that is tagged with this term, or also custom actions. Users are already familiar with the concept of Tag Clouds from the Internet. Now important content can easily be found in your SharePoint portal.
Display related content as known from amazon.com
Display context-specific "related content" dynamically, such as related documents, news with similar topic, responsible contacts, or further links automatically as already known from B2C portals like amazon.com using search-driven, security trimmed templates with flexible design. To define the search scope you can specify logical expressions of terms manually, or simply take-over the terms dynamically from the page that hosts the web part. Learn more about using related content in the Layer2 Related Content product video.
Integrate external data from SQL, ERP, or CRM into SharePoint Knowledge Management
Keep your SharePoint lists in sync with your enterprise IT systems and apps. 100+ external data sources can be easily included into SharePoint knowledge management, search, forms, and workflows with the Layer2 Business Data List Connector (not included in the KMS package).