Start your free trial now and see why thousands of customers trust Layer2 to manage their business-critical file and document sync. Please register below to receive your free personal download link via email to your valid company email address.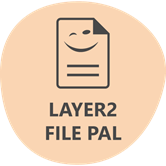 Check out your new pal for file synchronization. Keep your files and documents in sync between Network Share (File Server), local File System and SharePoint.
After entering your complete and valid corporate contact information you will receive a download link via email.