Download & Evaluation
Start your free trial now and see why thousands of customers trust Layer2 to manage their knowledge management with SharePoint. Please register below to receive your free personal download link via email to your valid company email address.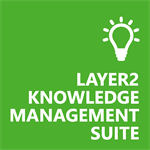 Layer2 Knowledge Management Suite for SharePoint
Add knowledge management to your SharePoint portal today to release potential benefits and increase end-user acceptance.
The Layer2 Knowledge Management Suite for SharePoint is a must-have to better manage taxonomies in the SharePoint Term Store, to assign managed metadata to items and documents automatically via bulk-tagging or in real-time, and to improve SharePoint content discovery and search. Let your data and documents in Sharepoint become knowledge.
Registration
After entering your contact information you will receive a download link via email.