Quickbooks Integration with Office 365, SharePoint and 100+
Intuit QuickBooks data can be integrated and synchronized codeless with various other data sources using the Layer2 Cloud Connector via 3rd party data providers. Please take a look here for supported target systems and applications like various SQL databases, Microsoft Office 365, SharePoint, Exchange, Dynamics and many others.​
​QuickBooks is well-known as an accounting software package developed and marketed by Intuit. Quickbooks products are geared mainly toward small and medium-sized businesses and offer on-premise accounting applications as well as cloud based versions that accept business payments, manage and pay bills, and payroll functions.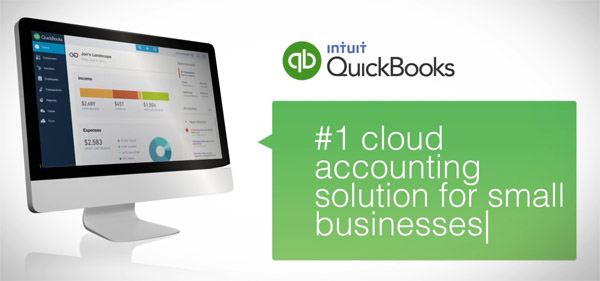 You can connect supported data sources to Quickbooks codeless. To connect to Intuit QuickBooks Online 2015 the data entity must be configured as follows in the Layer2 Cloud Connector Connection Manager: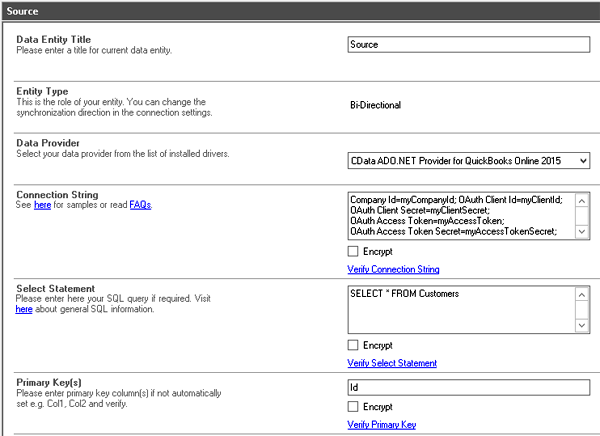 Fig.: Sample connection configuration to connect to Intuit QuickBooks customers list via 3rd party provider.
QuickBooks Specific Integration Settings
​Please note the following Intuit QuickBooks specific settings.
Install the CData ADO.NET Provider for QuickBooks Online 2015. This provider is not part of the Layer2 Cloud Connector ADO.NET provider package and should be installed separately from the vendor's product page. It requires extra licensing.
Choose "CData ADO.NET Provider for QuickBooks Online 2015" (exact name might vary) as "Data Provider" for your data entity (source and / or destination).
Follow the vendor instructions for setting up the connection string and select statement (see below for more details).
There are five values needed for the connection string. How you can get these five values:
First value is the Company Id. For this value go on your company QuickBooks web application and open "Your Account"-Settings over the ribbon with your company name. On this page in the top left corner you will find your Company ID, please note your Company ID.
For the other four values, you have to visit the developer page of intuit and create an app for QuickBooks. With this app you can get the needed tokens/values for your connection. (https://developer.intuit.com/)
Your login credentials are the same like in your normal used QuickBooks Account. Next click on "My Apps" and then on "Create new app". Now choose "Select API's" and check "Accounting" before you can go on with "Create App". After your app is created, click on the link "Test connect to app (OAuth)" in the right sidebar.This will open a new tab with the headline "Intuit Anywhere Developer Playground". Change no settings and click on the centered button labeled with "Connect to QuickBooks". Now click in the appearing pop up "Authorize". The previous tab will change and you will find a section with the headline "Post-Connection Interactions" on it. In this section click on the link "App Menu API Test". On the now appearing tab you will find your four values.
Set the data query as supported by the data provider, e.g. SELECT * FROM Customers.
Please take care about a valid primary key.
You can use the connection for uni- or bi-directional synchronization. In case of inserts via external systems please note the following: After creating an item in the external source, this item will be synchronized to QuickBooks but without the primary key ID. For this reason there are the same items with different primary keys in the QuickBooks data and the SharePoint data. During the next synchronization the item from QuickBooks will be added to SharePoint and the item in SharePoint will be deleted because there is no matching item in QuickBooks to it.
You can map your data query fields to specific external fields in the Layer2 Cloud Connector. Please take care about data types (simple type conversions are supported).
No installation or changes are required with any data entity connected.
Data synchronization can be started manually in the Connection Manager, per command line or scheduled in background by the Layer2 Cloud Connector Windows Service. Only data changes are processed (no delete / bulk import).
No programming required for setup a connection and sync.
No need to open your local network for access from outside.
Step-by-Step Intros For Codeless QuickBooks Data Integration And Synchronization
Just some ideas what to connect next with to QuickBooks queries:
FIND RELATED SOLUTIONS HERE.

Learn more about similar solutions for data migration, backup, integration, and synchronization by vendor and topic.