MongoDB Integration with SharePoint, Office 365 and 100 more
MongoDB data can be integrated and synchronized codeless with various other data sources using the Layer2 Cloud Connector via 3rd party data providers. Please take a look here for supported target systems and applications like SQL databases, Office 365, SharePoint, Exchange, Dynamics and many others.​​​​​​​
MongoDB is well-known as a cross-platform document-oriented database. Classified as a NoSQL database, MongoDB eschews the traditional table-based relational database structure in favor of JSON-like documents with dynamic schemas. That makes the integration of data in certain types of applications much easier and faster. MongoDB can be integrated codeless with many systems and applications on-premises (locally) or at other clouds using the Layer2 Cloud Connector.
To connect to MongoDB the source entity must be configured as follows in the Layer2 Cloud Connector Connection Manager: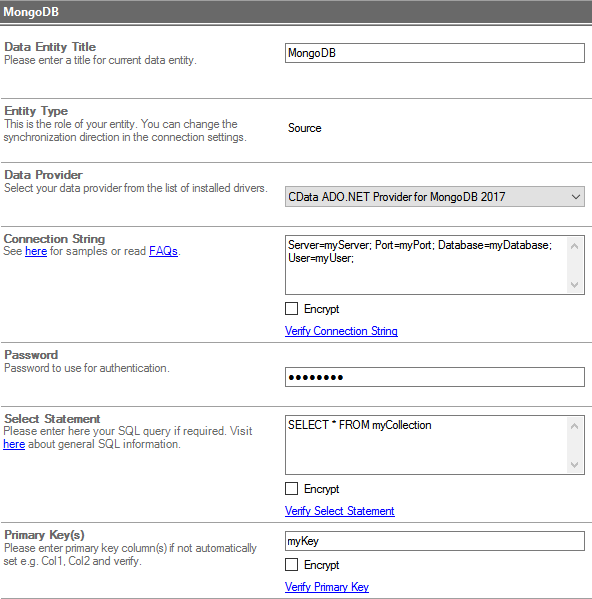 Figure 1. Example connection configuration to connect to a MongoDB data query via Layer2 Cloud Connector using a 3rd party provider for data synchronization.
MongoDB Connector Specific Integration Settings
​Please note the following MongoDB specific settings.
Install the CData ADO.NET Provider for MongoDB 2017. This provider is not part of the Layer2 Cloud Connector ADO.NET provider package and should be installed separately from the vendor's product page. It requires extra licensing.
Choose "CData ADO.NET Provider for MongoDB 2017" (exact name might vary) as "Data Provider" for your data entity (source and / or destination).
Follow the vendor instructions for setting up the connection string and select statement (see below for examples).
Set the connection string as required, for example:
Server=myServer; Port=myPort; Database=myDatabase; User=myUser; Password=myPassword;
Set the data query as required, for example:
​SELECT * FROM MyCollection.
_ID can be used as primary key. However, if you are using this provider as target or in a two-way connection, choosing your own primary key (usual PK restrictions of 'unique, non-NULL' apply) is required. Choosing the automatically provided primary key is not recommended as this might lead to inconsistent synchronization. Using the replication key feature (see technical documentation) might help you with this.
The provider can be used for one-way or two-way synchronization.
You can map your MongoDB data query fields to specific external fields in the Layer2 Cloud Connector. Please take care about data types (simple type conversions are supported).
No installation or changes are required at the MongoDB data source or the data destination.
Data synchronization can be started manually in the Connection Manager, per command line or scheduled in background by the Layer2 Cloud Connector Windows Service. Only data changes are processed (no delete / bulk import).
No programming required for setup a connection and sync.
No need to open your local network for access from outside.
MongoDB Data Provider Known Issues And Limitations
The MongoDB provider supports both legacy MONGODB-CR and SCRAM-SHA-1 (default) authentication methods. If you are using an older version of MongoDB, you may need to define the authentication method in the connection string. See the vendor provider documentation

for more information.

There seems to be a bug which might lead to values not being associated with the correct properties. It is unknown if this affects the newer provider version. This can be avoided by having one consistent schema per collection.
Step-by-Step Intros For Codeless MongoDB Data Integration And Synchronization
​Just some ideas what to connect next to MongoDB:
FIND RELATED SOLUTIONS HERE.

Learn more about similar solutions for data migration, backup, integration, and synchronization by vendor and topic.