SOAP Web Services Codeless Data Integration and Synchronization
SOAP Web Services data can be integrated and synchronized codeless with various other data sources, on-premise or in the cloud, using the Layer2 Cloud Connector via the Layer2 Data Provider for SOAP Web Services. Please take a look here for supported systems and applications.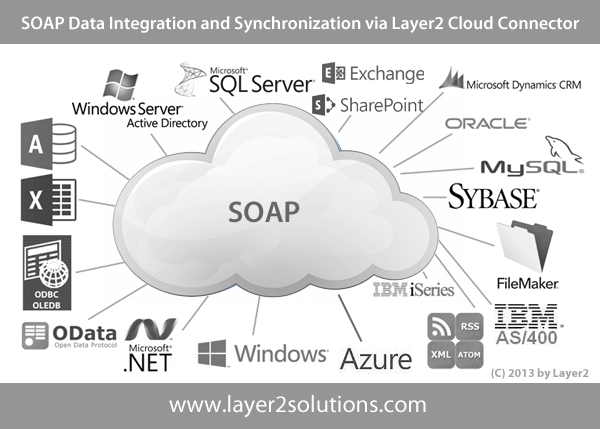 To connect to SOAP web services the data source entity must be configured as follows in the Layer2 Cloud Connector Connection Manager: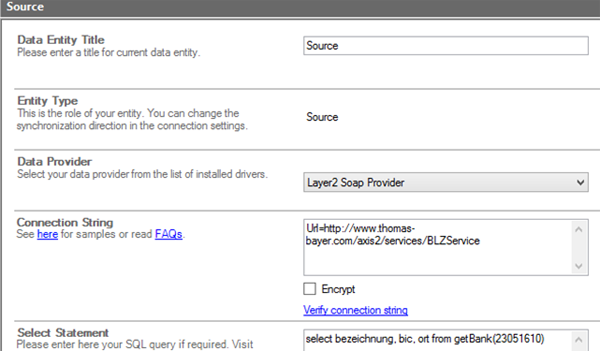 Fig.: Sample configuration to synchronize SOAP web requests with other data sources.
SOAP Specific Configuration Settings
​​Please select the Layer2 Data Provider for SOAP Web Services from the list of available data providers as current data provider.
​A typical connection string for the Layer2 Data Provider for SOAP Web Services looks like:

Url=<Url of the web service >;User=<UserName>; Password=<Password>;Protocol=<Soap protocol version>
The Layer2 Data Provider for SOAP Web Services supports a slightly different syntax than SQL to query the items from the web service like: SELECT [Fields] FROM [Operation]([Parameters])
Note that the data provider is read-only. No write-operations supported.
Step-by-Step Intros For SOAP Web Services Integration Scenarios
​You can integrate and sync with various data sources listed here. More information about specific scenarios:
Push data via SOAP web services into Office 365 and SharePoint for better collaboration.
Make data available for mobile devices and offline access via SOAP and Microsoft Exchange.
Integrate your ERP/CRM using SOAP web services.
Can't find what you are looking for? Please contact [email protected] for specific requirements.
Find related solutions here.

Learn more about similar solutions for data migration, backup, integration, and synchronization by vendor and topic.