SharePoint 2013 / Office 365 Preview and Layer2 Cloud Connector
​The Cloud Connector for Microsoft Office 365 and SharePoint connects almost any on-premise data source, e.g. ODBC, OLEDB, OData, Microsoft .NET based providers, Files (Excel, XML, CSV), SQL databases like SQL Server, Oracle, MySQL, IBM DB2, IBM AS/400, IBM Informix, Notes, SharePoint, Exchange, Active Directory, Navision, SAP and many more directly to native SharePoint lists and libraries in the Microsoft Cloud - or any other Microsoft SharePoint on-premise installation - in just minutes without any programming. For any questions please use the FAQ Web Form or contact [email protected] directly.
​SharePoint 2013 and the new Office 365 Preview have a lot of new options to connect to external data sources. Why the Layer2 Cloud Connector for Office 365 and SharePoint on-premise is still the most efficient, easy and secure way to connect?
Key changes in SP15 for BCS
These are the key changes and improvements with external data integration for SharePoint 2013:
OData Support as data source: oData is an important protocol for services that was not previously supported by BCS. BCS can now access oData sources OOB just like WCF or SQL data sources.
Visual Studio comes with support for automatically generating BDC Metadata Models from an oData source. OData is also supported in SharePoint Designer. OData can be used to access for example SharePoint 2010, SQL Azure, Azure Data MarketPlace and SQL Server Reporting Services.
Eventing Framework for external notifications: BCS provides alert capability for external lists as well as support for SharePoint Apps. BCS models are now scoped for app level, not to farm level. The framework needs programming and corresponding web services.
External list enhancements: Performance improvements, Data Source Filtering, Sorting, Export to Excel, CSOM API.
BCS now allows writing complex data management applications that can act bi-directional, based on custom programming using external event receivers, apps (e.g. Azure hosted) and web services.
Why using the Cloud Connector with the SharePoint 2013 and Office 365 Preview
The Cloud Connector perfectly works with SharePoint 2013 because it was built on the Microsoft CSOM API from the beginning. Why using it with SharePoint 2013 / 2016?
External data is not only displayed, but fully integrated as list or library. BCS displays data only by default.
All features of native lists and libraries are completely available, no restrictions: Personalized views, search, lookups, out-of-the-box workflows, notifications, attachments, social features e.g. Like It or rating, metadata like terms and tags, etc.
No programming required: BCS requires modeling and / or programming on SharePoint side to connect.
No customizing required. Not on data source side, not on SharePoint side.
Setup of connections in just minutes: You can use a simple Connection Manager or Connection Wizard with a few configuration fields only, no Visual Studio or SharePoint Designer.
Virtually any on-premise data source supported: SQL databases like SQL Server, Oracle, DB2, Informix, AS/400, MySQL, file shares, ERP / CRM / ECMS or other legacy platforms and on-premise applications like Dynamics, SharePoint, Active Directory, SAP etc.
Many cloud or web-based data sources are supported via XML or 3rd party providers (e.g. SalesForce, Google, Facebook, Twitter).
Additional providers included out-of-the-box: OData, CSOM, RSS, XML (via XPath query) etc.
Simple architecture - Highest performance: End users are working with native SharePoint lists and libraries as some kind of high performance cache for the external data. No connection to corporate data is required for usage, only for replication (e.g. one a hour or daily).
Highest Security - No access to corporate network required from outside: The connector runs safely within the corporate network as a windows service to push and pull data as required using CSOM web services (SSL encoded via HTTPS).
Highest compliance - No data is transferred to any 3rd party or vendor: No external app - e.g. somewhere in Azure or externally hosted - required to sync your data.
The Cloud Connector can be used to setup a connection between your existing Applications and your SharePoint 2013 evaluation in just minutes. You can replicate existing data to more efficiently evaluate the SharePoint 2013 features.
Cloud Connector - Sample Data Source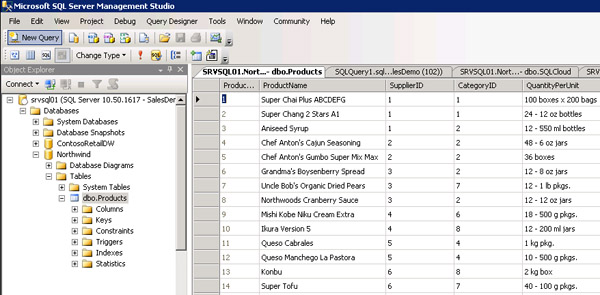 Fig.: SQL Table as sample data source to connect to SharePoint 2013. Please note, that you can connect bi-directional as well without any programming and access to corporate network from outside.
Cloud Connector - Sample Data Destination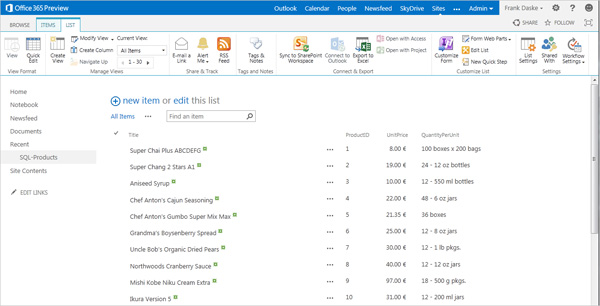 Fig.: Native SharePoint 2013 / Office 365 Preview list as a sample data destination connected via Cloud Connector. Please note, that you can connect bi-directional as well without any programming and access to corporate network from outside.
Next Steps: Free registration and download
​​You can register and download the Cloud Connector today here. Please contact [email protected] if you have any questions.
Explore frequently asked questions by topics.