How to Use Multi-Factor-Authentication with the Cloud Connector
The Layer2 Cloud Connector can work with Office 365 Multi-Factor-Authentication! This guide describes how to enable a app password so the Cloud Connector can continue to work even with MFA enabled.
If your Office 365 account is set up to use the Office 365 Multi-Factor-Authentication (MFA) - that is, it requires an additional step to authenticate via an phone, mobile app, token fob, etc. - you will be able to use this with the Layer2 Cloud Connector by taking some additional setup steps to configure an App Password in the Office 365 MFA account settings. Once the App Password is configured, you can use it instead of the normal user password in the connection string to Office 365.
User= the Account that had the App Password created for it
Password= the App Password, NOT the user's normal password
Authentication= What the account would normally use, such as Office365 or ADFS. No special method is required for this!
Please note that the Cloud Connector currently only supports Office 365 MFA. Other third party Multi-Factor-Authentications may not be supported. Generally with third party MFA solutions, you can grant a bypass or exception to the account you wish to use with the Cloud Connector so that it does not have to provide the additional token. However, if you must use the MFA token with the account due to policy and cannot get an exemption, then you won't be able to use the Cloud Connector to connect to that resource as it has no way to pass the token.
How to Create an App Password
​Go to your Office 365 settings.

Click on Additional security verification.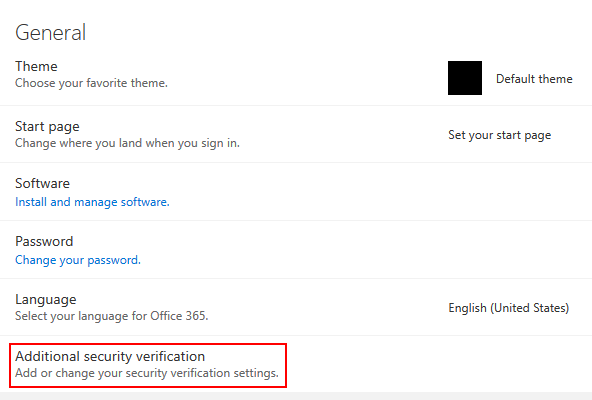 Click the link to Update your phone numbers used for account security.

Go to App Passwords.

Click Create to start the process to generate a new App Password for the account. You will be asked for a name and then get your auto-generated password. Make sure you save this somewhere secure as you will not be able to access or see what it was from here later.

Known Issues and Workarounds
​App Passwords DO NOT work for Office 365 admin accounts. It is advised for you to use a specific non-admin account just for the Layer2 Cloud Connector that has appropriate read and write access to the site libraries and lists as required for the synchronization connections.
Explore frequently asked questions by topics.