How to fix the SharePoint List View Threshold using Metadata
​The SharePoint list view threshold makes it almost impossible to navigate large SharePoint document libraries and lists (> 5.000 items) as usual using list views and filters. This gap can be closed by assigning managed metadata to items and documents automatically using the Layer2 Auto Tagger.
​"The number of items in this list exceeds the list view threshold, which is 5000 items" is the well-known error message when you try view a sorted, filtered or grouped SharePoint 2013 or SharePoint Online list or library that contains more than 5.000 items or documents.

Fig.: SharePoint List View Threshold Issue. See below how to fix.
As noted here, SharePoint generally supports millions of items in a list - but with restricted features only above the list view threshold of 5.000 items. Creating indexed columns can help in a few cases. You can still use search to find your items - but you will definitely miss views and filters as usual with SharePoint. This may not be an issue for collaboration, but it prevents many customers to make use of SharePoint for enterprise-wide document management.
Managed Metadata can help to fix the SharePoint list view threshold
To make it easier for users to find content in large lists and libraries, you can configure metadata navigation. Metadata navigation enables users to dynamically filter and find content in lists and libraries by using a navigation hierarchy tree control to apply different metadata-based filters to the view. Key Filters can be used in combination with the navigation hierarchy to refine the list of items that are displayed. You can read more here about this feature.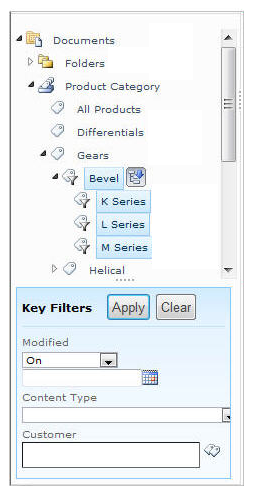 Fig.: SharePoint document library with managed metadata filter enabled.
But how to apply managed metadata to large document libraries? SharePoint out-of-the-box supports assigning managed metadata manually only. But users often will not be happy to do this, especially after large migrations from file share or any document or content management system. Additionally assigning appropriate metadata needs expertise and knowledge of both, the enterprise taxonomy (stored in SharePoint Term Sets) and the context and content of the current document. In case wrong metadata is assigned, documents will not be found in the navigation as expected. Assigning managed metadata manually is at high risk.
Assigning appropriate Managed Metadata to large SharePoint libraries automatically
You can assign appropriate managed metadata completely automatically to large libraries and lists using the Layer2 Auto Tagger as follows.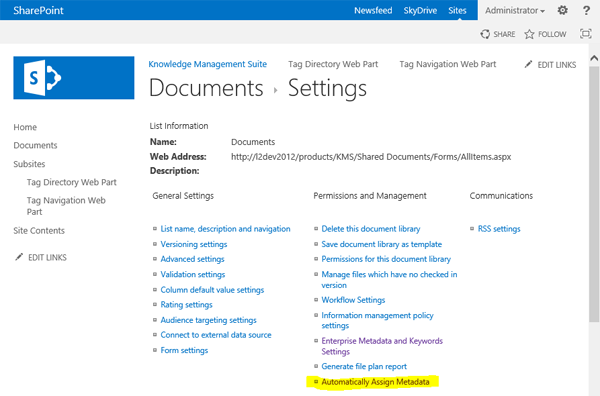 Fig.: Find the "Automatically Assign Metadata" feature in the list settings.
With the Layer2 Auto Tagger installed and activated for the current site collection there will be an additional entry "Automatically Assign Metadata" in the current list or library settings. Following the link you can
bulk-tag libraries with already existing documents (especially after migrations) and
assign managed metadata automatically in real-time during document upload or item change.
The taxonomy entry points (term set root node) is automatically chosen with respect to the current meta data column settings. List items are processed as well as documents and files located in SharePoint libraries. Properties (meta data column content) of list items and documents are also considered for tagging. The context of items and documents, e.g. site, list, library, folder, url is considered for tagging as well. The document or file textual contents are considered if appropiate IFilters are installed. Means no problems with Office documents or Adobe PDFs.
Term labels and synonymes are used to find appropriate text. To increase precision the use of categorization rules for auto-classification is supported (e.g. one term is in document content while another term is not). A high performance completely Microsoft .NET Framework based rule engine is used to provide a high quality of subject classification. Generally rule-based content classification is much faster, less expensive to implement, and produce reliable, reproducible results with higher accuracy compared to linguistic and statistical approaches.
The automatic metadata assignment is fully integrated in default SharePoint tagging. Manually assigned tags can be kept untouched, if required. There are flexible background operation settings: Scheduling, inclusion and exclusion of sites, lists & libraries, columns and content types.
The solution is completely based on the Microsoft SharePoint 2013 Enterprise Metadata Management API. No MOSS 2007 legacy code or external 3rd party software or data (e.g. search index) is used by default. Also there is an open API: Optionally plug-in of existing 3rd party solutions for text-mining, rule generation etc. can be added, if required.
Note that you can also apply managed metadata to almost any external data sources, integrated in SharePoint using the Layer2 Business Data List Connector. That means, data from external SQL, ERP/CRM etc. will also be found in SharePoint.
After assigning managed metadata your documents are accessable using filters and and views based on that metadata. Assigning managed metadata automatically can highly increase benefits and user acceptance of your SharePoint portal.
SharePoint Auto Tagging - Next Steps
​
You will find more information about assigning managed metadata automatically to SharePoint items and documents on the Auto Tagger product page. You can also download a free trial after registration.