Layer2 Taxonomy Manager for SharePoint - Overview
The Layer2 Taxonomy Manager for SharePoint offers a complete term life-cycle management application to efficiently import, update and export corporate metadata taxonomies including additional custom term attributes, e.g. content classification rules.
A taxonomy is a controlled vocabulary used to describe, organize, and classify information in order to make it easier to find and use. In Microsoft SharePoint Server taxonomies of managed metadata can cover virtually any type of physical or conceptual entities (products and services, processes, knowledge fields, organizational groups, locations etc.) at any level of granularity (page, item, user etc.).


Taxonomies, centrally managed in the SharePoint Term Store, can help users to find the information they need much faster, connect users to social networks, provide portal-wide activity feeds and enable completely new ways to access information using search driven category trees or glossary style navigations: It simply saves money.
Please see screens below and the features & benefits page for more information.
Layer2 Taxonomy Manager for SharePoint - Sample Screens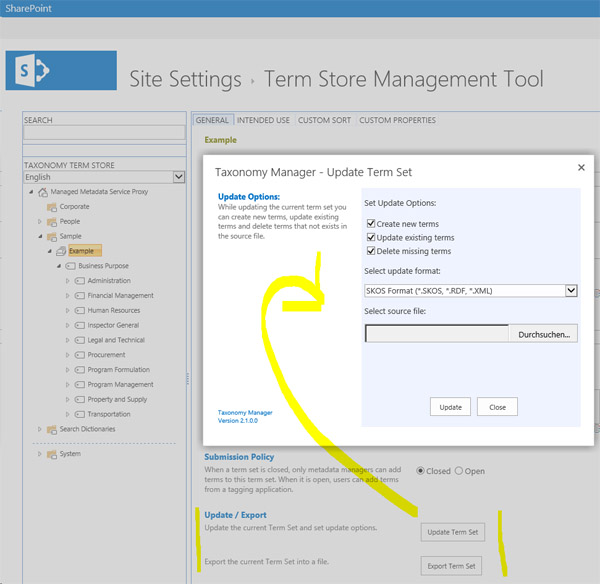 Fig.: The Taxonomy Manager offers SharePoint Term Set export and import / update features that allow a taxonomy deployment between different SharePoint installations (e.g. for development / QA and production) and adds integration of taxonomies that are managed in external systems using the SKOS interface format.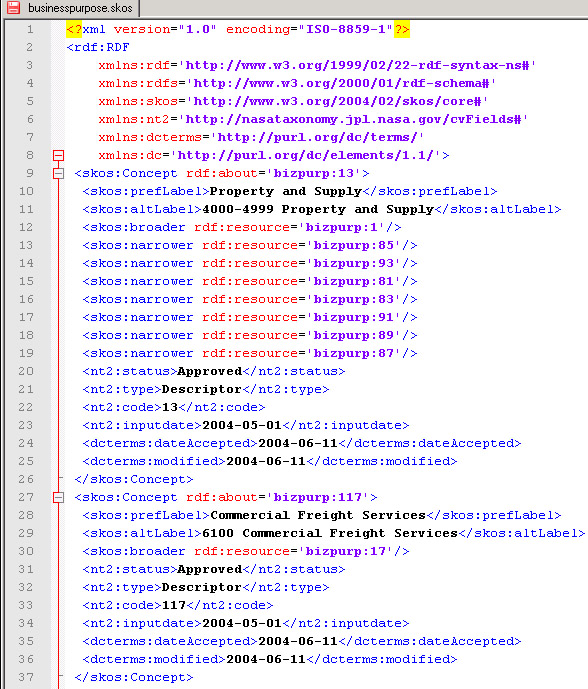 Fig.: The XML-based SKOS language is used as an interchange format between different installations or systems.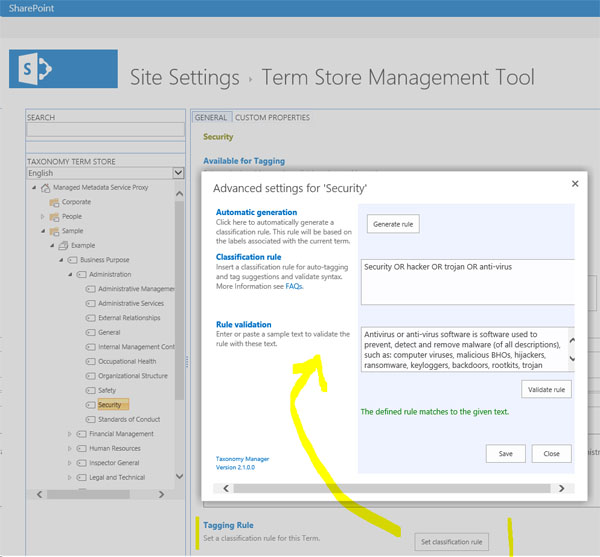 Fig.: The Taxonomy Manager allows the management of additional attributes like content classification rules. These rules can be generated and improved in a step-by-step validation process using sample texts.
It can be used later on for semi- or full automatic content classification in SharePoint.
Layer2 Knowledge Management Suite - Customer References
Many large companies and organizations - but also SMBs - all over the world are successfully using the Layer2 Knowledge Management Suite for SharePoint, e.g. NATO C3 AGENCY (NC3A), US Department of Defense Dependents Schools (DoDDS) Pacific IT Division, World Bank, Ford Motor Company, Bank of New Zealand, Fred Hutchinson Cancer Research Center, American Family Life Assurance Company (AFLAC), Schleupen AG, Towers Watson, Landesamt fuer Steuern und Finanzen of Freistaat Sachsen, ERBE Elektromedizin GmbH, KTR Kupplungstechnik GmbH and many more.