SharePoint Content Classification: Layer2 Auto Tagger - Overview
The Layer2 Auto Tagger for Microsoft SharePoint automatically categorizes SharePoint content in background - often referred as "auto-tagging". Managed metadata is assigned to list items and documents based on terms, synonyms or optional classification rules organized in the SharePoint term store.
The solution allows to quickly attach precise terms to SharePoint content items and documents, reflecting the controlled vocabulary of the specific business sector or academic discipline. After automatic assignment managed metadata can be used to highly increase content findability, e.g. using term filters, additional navigations and search refiners. Assigning managed metadata often is the only way to overcome the well-known list view threshold issue in SharePoint to manage document libraries with more than 5.000 items. By default SharePoint offers a manual content classification feature only.

Content classification rules, item and document properties and metadata, information store context and textual document contents are considered with the auto-classification. You can adjust the vocabulary terms and the corresponding rules that govern indexing, to assign highly accurate and consistent subject metadata to content objects. The rule-building form and the classification rule syntax are highly intuitive and do not require any programming.
Metadata can be assigned automatically on document upload, using the bulk-tagging feature on a per-library base or using timer jobs for whole webs, lists, content types etc.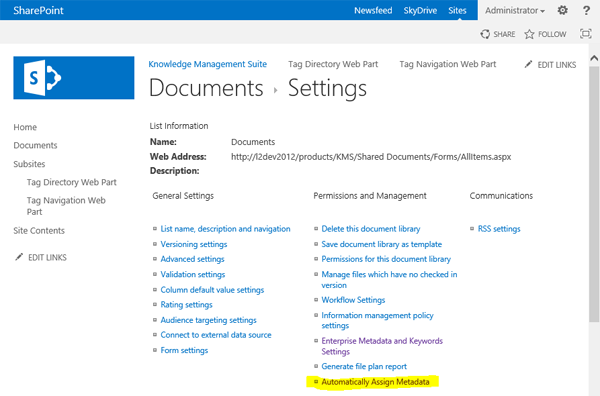 Fig.: Please note the additional entry in library settings "Automatically Assign Metadata" that comes with the Layer2 Auto Tagger. Simply configure the list for auto-tagging following this link.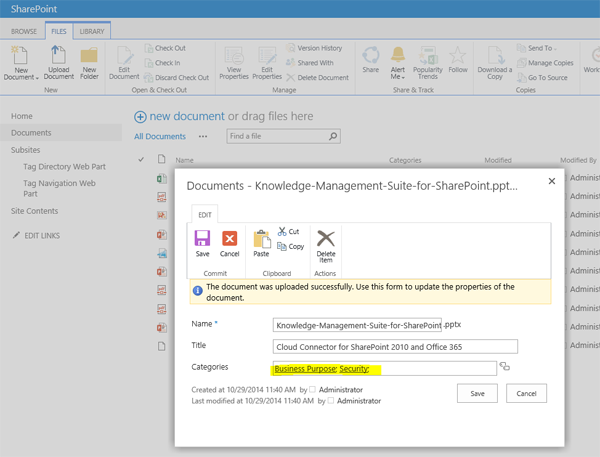 Fig.: Managed metadata is assigned completely automatically while uploading documents to SharePoint.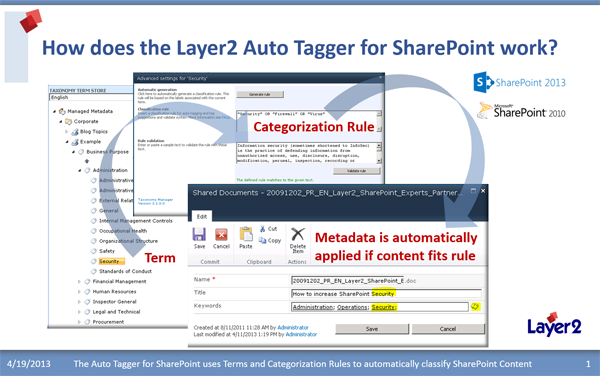 Fig: Content classification rules can increase precision while using the Layer2 Auto Tagger.
Please note the Layer2 Auto Tagger installation and setup page to know more.
Layer2 Knowledge Management Suite for SharePoint - Customer References
Many large companies and organizations - but also SMBs - all over the world are successfully using the Layer2 Knowledge Management Suite for SharePoint, e.g. NATO C3 AGENCY (NC3A), US Department of Defense Dependents Schools (DoDDS) Pacific IT Division, World Bank, Ford Motor Company, BASF AG, Bank of New Zealand, Fred Hutchinson Cancer Research Center, American Family Life Assurance Company (AFLAC), Schleupen AG, Towers Watson, Landesamt fuer Steuern und Finanzen of Freistaat Sachsen, ERBE Elektromedizin GmbH, KTR Kupplungstechnik GmbH and many more.