SharePoint Knowledge Management: 3 Easy Steps to Jump-Start
Without professional knowledge management, companies are losing potential, wasting resources, and acquiring unwanted competitive disadvantages. Why not using Microsoft SharePoint - not only for document management, collaboration and social networking - but for corporate knowledge management as well?
Means Wiki? Yes, but wait ... there is much more:
​To jump-start Knowledge Management with SharePoint you have to go 3 easy steps:
Create, manage and improve your corporate taxonomies as managed metadata in the SharePoint Term Store
Add managed metadata columns to almost any SharePoint list and library. Classify your content by applying your taxonomy terms.
Make use of content classification by improved search, filters, navigations, news feeds, content relationship and more
1st Step to SharePoint Knowledge Management: Taxonomies
Taxonomy are controlled vocabularies used to describe, organize, and classify information in order to make it easier to find and use. In Microsoft SharePoint Server taxonomies of managed metadata can cover virtually any type of physical or conceptual entities (products and services, processes, knowledge fields, organizational groups, locations etc.) at any level of granularity (page, item, user etc.). Taxonomies are managed in the SharePoint Term Store. Please create your own Term Groups and Term Sets in the Term Store.
Your ERP system can be a good starting point with product groups and products or organizational units. You can export from there as Excel or CSV.
There are some taxonomies freely available in the Internet, mostly in SKOS format (not suported by SharePoint)
You can buy commercially available taxonomies, e.g. for specific industries as a starting point (mostly in SKOS format as well)
3rd party SharePoint tools can help to manage taxonomies in the SharePoint Term Store, e.g. with
SKOS based Term Set import and export
Taxonomy backup and restore
Deployment (without losing existing metadata assignments)
Content Classification Rules to increase precision and efficiency
See here for more details about the Layer Taxonomy Manager for SharePoint.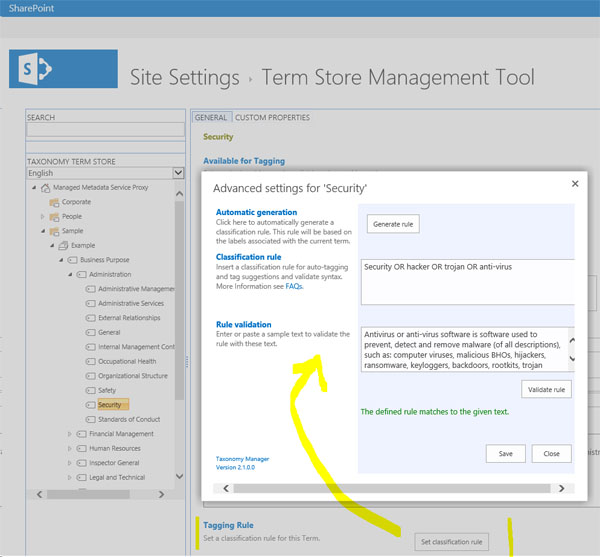 Fig.: Sample content classification rule to identify content that should have the term "Security" applied.
2nd Step to SharePoint Knowledge Management: Content Classification
​As a next step activate Enterprise Metadata Management on SharePoint. Add Enterprise Metadata columns to lists and libraries. Start to classifiy content manaually using SharePoint out-of-the-box. Do not use social tags for this, but managed terms. Think multi-dimensional: For example add product group, product name, organizational unit, topic etc. to each document. And yes, please also classifiy your wiki pages.
3rd party SharePoint tools can help to increase precision and efficiency of content classification by using
Please constantly improve your taxonomy and content classification rules to better match the given content. Classify users and contacts as well to assign skills or responsibilities.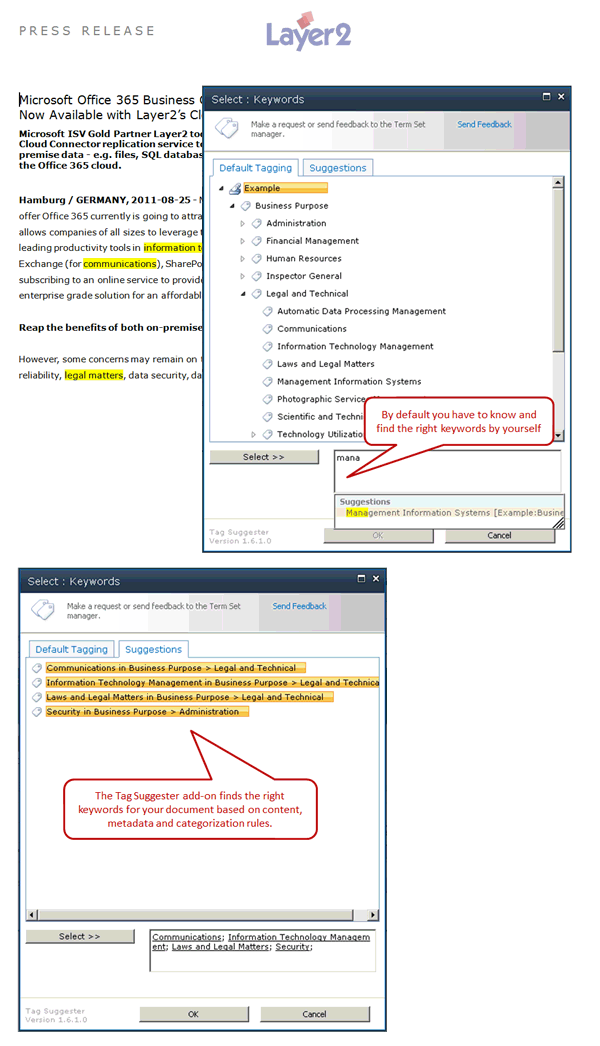 Fig.: Metadata suggestions can improve productivity and precision while categorizing content.
3rd Step to SharePoint Knowledge Management: Advanced Search, Filter, Navigation, Content Relationships
​When the SharePoint content is once classified, you can benefit from classification by
Improved search: Facetted search / search refiner, search by term ID
Filter: You can filter a library by managed metadata (btw. often the only way to manage large libraries in SharePoint because of the list view threshold (5000 items limit).
Dynamic topic pages: Try the Tag Profile Page in SharePoint 2010 or hashtag pages in 2013.
Topic subscriptions: You can subscribe to latest changes by selected terms (portal-wide).
Improved navigation: You can use the taxonomy tree or the list of terms for navigation (see below).
Content Relationship Management: You can display related content (that has the same classification) on the fly
3rd party SharePoint tools can help to implement:
Term Set Navigation to surf your corporate knowledge
Glossary of Terms to find a common corporate language
Tag Clouds to find out hot topics by its importance (usage count)
Related Content to link related items and documents automatically (well-known from Amazon.com)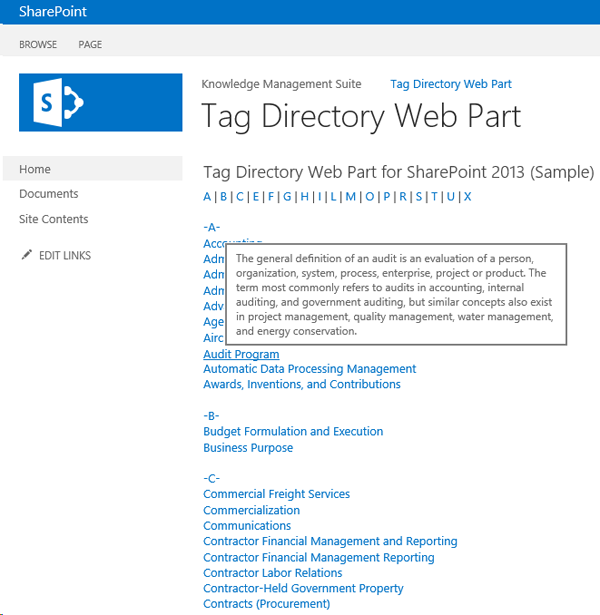 Fig.: A Term Store based taxonomy can be used as a glossary of terms to to build a common corporate language and understanding within the enterprise.
SharePoint Knowledge Management: Include external content
Enterprise Metadata Management in SharePoint is limited to SharePoint content by default. Managed metadata are not supported for "external lists" (BCS). Again, 3rd party tools can help to seamlessly include almost any external content (from databases, ERP/CRM, file system etc.) as well. See here for more: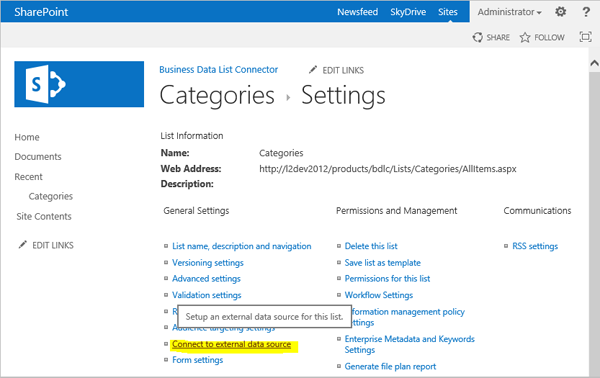 Fig.: Simply click "Connect to external data source" in the general list settings to connect external content, e.g. for enterprise metadata management.
Imagine ... your product and customer details right from ERP/CRM always up-to-date in SharePoint and automatically classified with metadata as well. Available for views, search, lookups, news feeds, change notifications, workflows - no restrictions.
SharePoint Knowledge Management: Where to go next
​Interested in evaluation? Please go to the product page, register and download. All components are free to use as shareware (with limitations). To request full featured 30-day trials today please contact [email protected].