How to bulk-tag a SharePoint library to assign managed metadata to all documents automatically?
Bulk-tagging is a common task in SharePoint, especially after content migration, to classify content and assign appropriate managed metadata automatically to all documents and items of a library.
​The Layer2 Auto Tagger can help you to initially bulk-tag existing SharePoint lists and document libraries, e.g. after migration. You have to go the following steps:
Create an appropiate taxonomy of term sets in the SharePoint Term Store. Import freely or commercially available taxonomies from SKOS using the Layer2 Taxonomy Manager. Add synonyms to potentially capture more content. Optionally add content classification rules for refinement using the Layer2 Taxonomy Manager.
Add a column of type Managed Metadata to your document library and configure to point to your previously created taxonomy or terms sets. Verify the functionallity by assigning managed metadata manually using SharePoint default features.
Install the SharePoint Auto Tagger, activate the feature. You should find the following additional option in your library settings: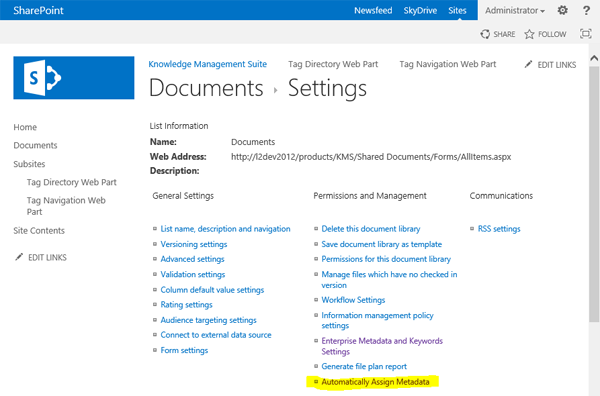 Fig.: SharePoint library settings option to assign meta data automatically, e.g. using bulk-tagging
Configure Auto-Tagging for the current library by following the additional link (see above). Set System Update and Overwrite-Mode to true. Don't forget to activate (enable) the certain columns you want to assign managed metadata to.
Run "Bulk-Tagging" directly from the settings page. This is a background operation and can take a while, depending on amount of items, size of term set, complexity of classification rules. You can close the configuration page and go directly to the library to see any progress in metadata assignment.
You now have managed metadata assigned. Not the expected results? Refine your terms, synonyms or classification rules. Try again. The Layer2 Tag Suggester could be helpful to improve quality of metadata assignment.
After bulk tagging is finished sucessfully don't forget to activate the library configuration for real-time tagging to assign managed metadata automatically to newly added or modified content.
Where to go next?
​Metadata assignment can dramatically improve SharePoint document findability:
Advanced library navigation and filter operations by terms (SharePoint default). Note that managed metadata is often the only way to navigate large libraries (above the 5.000 items list view threshold).
Terms can be used for search refinement (SharePoint default).
Terms can be used for tree-based navigations (Layer2 Tag Navigation Web Part).
Terms can be used for A-Z directories or linked glossaries (Layer2 Tag Directory Web Part).
Terms can be used to render "related content", e.g. similar documents, responsible contacts, further links etc. (Layer2 Realted Content Web Part).
Terms can be assigned to external data as well, e.g. from SQL databases, ERP/CRM etc. (Layer2 Business Data List Connector).
You can download all components as free Shareware (with limitations) from the Layer2 Knowledge Management Suite product pages after registration. For full features you need to license. Please contact [email protected] for any questions.