How to connect a custom SharePoint list with external Microsoft Exchange data using the BDLC
The SharePoint Business Data List Connector is used to simply connect a SharePoint list with external LOB data, e.g. from databases, CRM or ERP systems.
SharePoint out-of-the-box can sync some data in Microsoft Exchange to some lists in SharePoint, e.g. events. Connecting a custom SharePoint list to Exchange or Outlook with the Business Data List Connector (BDLC) to pull data into this list is a more general approach. You have to provide a connection string, a select statement and primary key(s) - if any - to connect a custom SharePoint list directly in the list settings dialog using the BDLC.
Please note, that the Microsoft OLEDB Provider for Exchange (ExOLEDB) has some known limitations:
ExOLEDB can only be run on a computer on which Exchange is running, and can only access databases and storage groups that are actually managed by that Exchange server. ExOLEDB can not be used on front-end Exchange servers or client computers.
To access Exchange data via Outlook with the Jet OLEDB provider you can use a connection string like this:
Provider = "Microsoft.JET.OLEDB.4.0;Exchange 4.0" "MAPILEVEL=Mailbox - James Smith|; PROFILE=MS Exchange Settings;TABLETYPE=0;DATABASE=C:\WINDOWS\TEMP\;"
Be sure to replace the mailbox name and the temp path (has nothing to do with the database) as required. You must keep vertical pipe character | to indicate top level of folders. Place sub-folders after vertical pipe if accessing specific folders.
You can use a select statement like this:
"Select * from Calendar" or "Select * from Contacts".
By the way you can connect using a personal Microsoft Office Outlook installation too, if required:
Provider="Microsoft.Jet.OLEDB.4.0;Outlook 9.0;" "MAPILEVEL=;DATABASE=C:\Temp\;"
Please take care, that the current SharePoint user or (in case of using a timer job for background updates) the process user has the appropiate access rights.
How to connect SharePoint and Exchange using a 3rd party gateway
With the SharePoint Business Data List Connector you can use a 3rd party middleware driver to link SharePoint lists to Exchange data.
Step 1: 3rd Party Exchange Gateway Driver Setup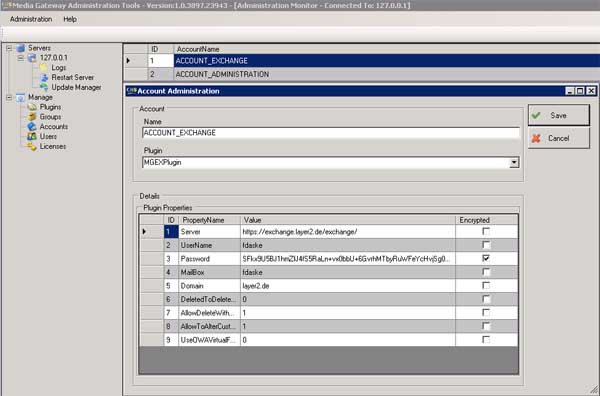 Fig.: Enter your user configuration to access Exchange Server.
Step 2: Check connection string and query for Exchange Server data access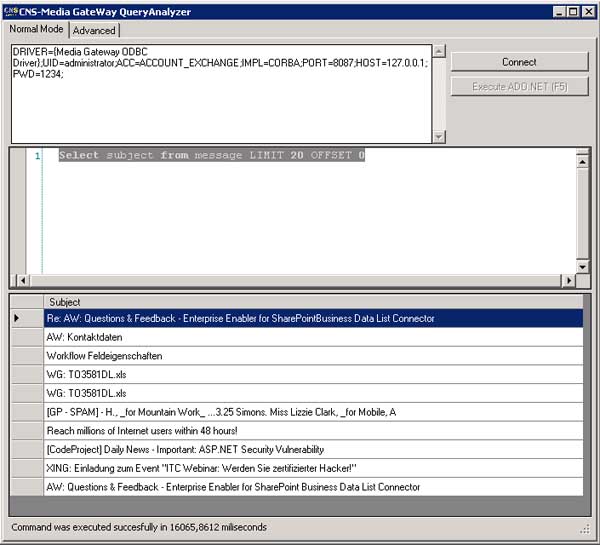 Fig.: Before using the connection string and the query in BDLC, you can test with the Query Analyzer.
3. Configure BDLC to sync Exchange with a SharePoint list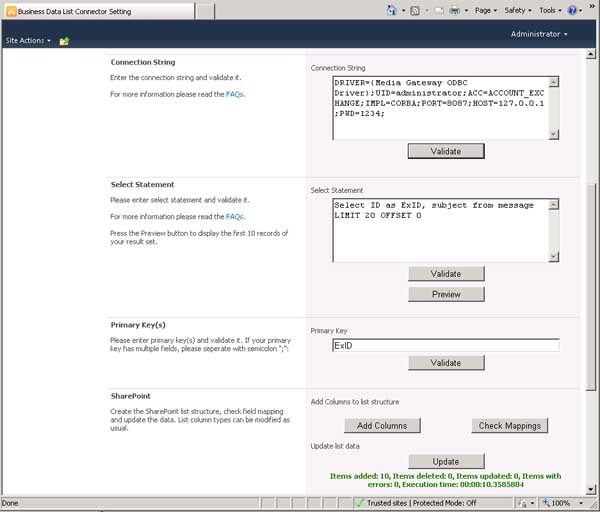 Fig.: Copy the pre-tested connection string and query to the BDLC settings to connect a list.
4. Manage your Microsoft Exchange data in a SharePoint list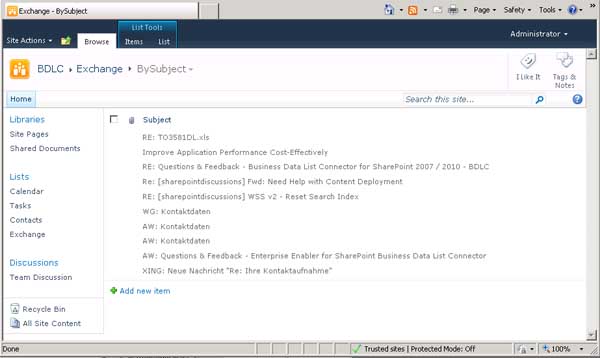 Fig.: You can use the Exchange data in a SharePoint list without any restrictions.
The inbox messages above are for example only. The conenction works in the same way for any Exchange-based contacts and SharePoint contact lists, Exchange-based tasks and SharePoint tasks list, Exchange-based appointments and SharePoint event lists (e.g. with calendar view) and any other types of lists. Simply try "select * from task", "select * from contact" etc.
You can use all list features like views, calculated fields, additional columns, attachements, offline, tagging, rating, RSS newsfeeds, change notifications per email or even workflows.
Please contact [email protected] with your full business contact data to request the required middleware today. You can download the Business Data List Connector here.