How To Access Almost Any Corporate Data Source by Mobile Phone?
You can access almost any corporate data source by your mobile phone using the new Microsoft Office Web Apps and the Layer2 Cloud Connector for Office 365 and SharePoint. Office 365 (or any other SharePoint) acts as a cost-effective gateway for content replication while the Cloud Connector opens it for external corporate data sources.
​Using the new Microsoft Office Web Apps you can access any SharePoint list or library using your smartphone, online and offline, as shown below. Simply add the site (e.g. Sales) to your Office App to access any list or library (e.g. Excel-to-Cloud). You can scroll the list or library and open items and documents.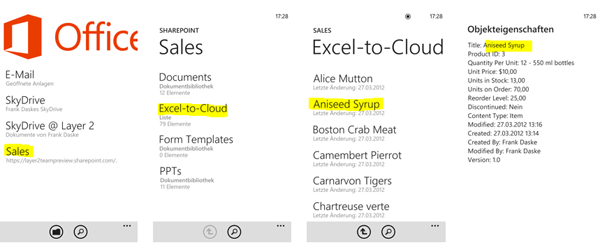 Fig.: Microsoft Office Apps sample configuration on my Nokia Lumia 920 Windows Phone. The SharePoint list (e.g. "Excel-to-Cloud") is connected to some Excel data source in my backoffice (just as a sample). The list item (e.g. "Aniseed Syrup") can be accessed with all details, online or offline.
Please read below about how to get the corporate data into these lists or libraries.
How To Replicate Almost Any Corporate Data Source with SharePoint Lists or Libraries?
​You can use the Layer2 Cloud Connector for Office 365 and SharePoint to connect almost any external corporate data source with SharePoint - on-premise or in the Microsoft Office 365 cloud. It extends the SharePoint capabilities to existing external data sets, that will continue to reside within your corporate network – directly connected to native SharePoint lists and libraries and always up-to-date:
No programming or tools required: Setup in a few minutes guided by a wizard. No installation or customizing at SharePoint or data source required.
100% compatible to ALL SharePoint offerings: On premise, externally hosted, Office 365, sandboxed. Utilizes the new Microsoft CSOM API.
Reliable architecture: A connection is established only for data exchange – not for general usage. No direct access to corporate data required from outside. Native SharePoint lists and libraries act as a cache for your data – bidirectional if required.
Secure data connection and transfer: The connector runs where your data resides today - on any server or client inside your corporate network with Internet connectivity available.
High performance: Works great with large data sets.
Almost any data source supported: ODBC, OLEDB, OData, .NET-based providers, file content (Excel, XML, CSV), File System Replication, SQL Server, Oracle, MySQL, IBM DB2, IBM AS/400, IBM Informix, Microsoft SharePoint, MS Dynamics NAV/CRM, Exchange, Active Directory, Navision, Lotus Notes, SAP, XML Web Services etc.
CSOM, OData, File System, XML provider included.
Start workflows or send email notifications in the cloud on external data change.
Add additional "cloud-only" columns, e.g. for rating, or file attachments. Aggregate your external data.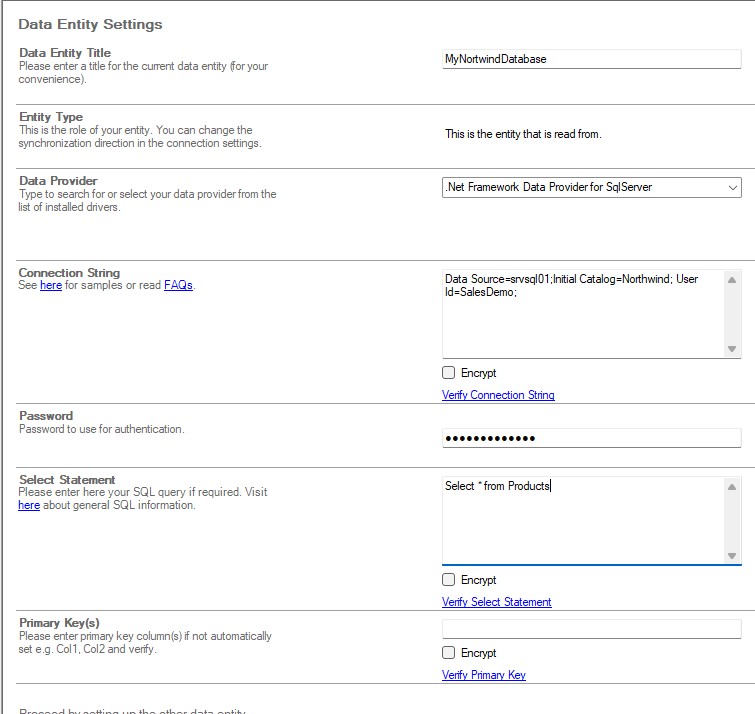 Fig.: You can connect to almost any corporate data source with a few settings only. In this sample a SQL database is conencted by query.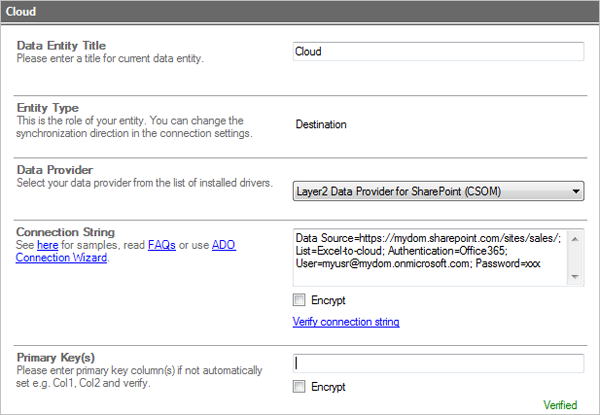 Fig.: You can connect to SharePoint or Office 365 with a few simple settings only.
Explore frequently asked questions by topics.