While a fast-growing number of cloud-based services like Microsoft Office 365, Dynamics, Azure, or Salesforce are offering features and resources on-demand at an attractive, pay-as-you-go price, they often create new data islands in the cloud that are difficult to integrate with the existing IT infrastructure and applications, including other clouds.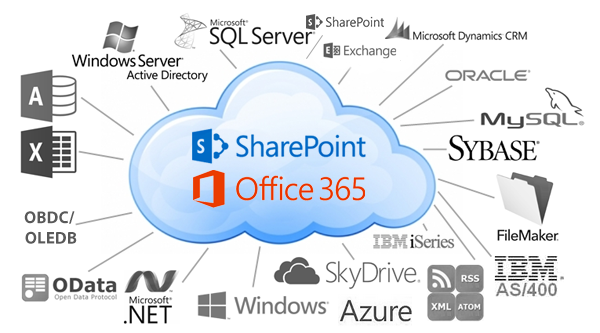 That's why the Layer2 Cloud Connector in version 6 comes with support of a wide range of cloud-based data sources, as well as codeless data integration of 100+ on-premises applications like SQL databases, ERP/CRM/CMS systems (for structured content), and network file shares (for unstructured documents). In addition, version 6 fully supports the new Microsoft Windows 10 operating system, as well as the new Microsoft SharePoint Server 2016 (Preview).
Quickly integrate and synchronize almost any business data
The Layer2 Cloud Connector seamlessly integrates apps hosted in public or private clouds, as well as applications and data hosted locally on-premises with codeless data synchronization - without the need to modify the connected systems, to open the corporate network for internet access, or to apply programming. It reduces the dependency on corporate IT and directly empowers departmental subject matter experts to get things done faster, with significantly reduced complexity, risks, and costs.
"A rich suite of data source adapters is already included in package and available as ready-to-use sample connection templates, e.g. for Microsoft SharePoint, Office 365, Exchange, Dynamics, OData, and XML/SOAP web services. But the connector also works seamlessly together with already existing vendor-specific data providers, e.g. for SQL Server, SQL Azure, Oracle, MySQL, PostgreSQL, IBM AS/400, IBM DB2, Informix, SAP and 100+ more". Many 3rd party data providers, e.g. for Salesforce, Google, Twitter, Facebook etc. are also supported", Frank Daske, Product Manager at Layer2 explains the connectivity options.
Customers with Software Assurance can upgrade without any additional costs
Existing customers of the Layer2 Cloud Connector with Software Assurance can profit from the new features with a free upgrade. New prospects can download the Cloud Connector after registration as a completely free Shareware Edition on the vendor's homepage. Regional Layer2 VAR partners are ready to support the upgrade process and can provide help to make use of the new features.
About Layer2
As a Microsoft Gold Certified Partner and ISV based in Hamburg (Germany), Layer2 is one of the leading providers of Microsoft Office 365, SharePoint, and Azure apps in Europe with a major focus on Data Integration, Collaborative Knowledge Management, Social Networking and Cloud Computing. Layer2 has also been known as a reliable partner to customers in Central Europe, offering additional consulting and services in the fields of SharePoint, Office 365, Azure and IT infrastructure for more than 20 years.