The rapid adoption of Microsoft Cloud offerings such as OneDrive, Office 365, SharePoint Online, Dynamics Online, Exchange Online and Windows Azure is driving the need quickly integrate these new services with the existing corporate or organizational IT – otherwise in many cases the potential benefits cannot be released. Even with the rise of cloud-based services, for most companies the IT investments they have made, and the systems that their business rely on, will remain as their strategic resources for years to come. That's why the Layer2 Cloud Connector does not only support cloud-to-cloud SharePoint and Office 365 integration, but also hybrid cloud-to-on-premises integration scenarios, complementing currently existing IT infrastructures like databases, ERP/CRM or file shares.
Quickly synchronize almost any business data with the cloud
The Layer2 Cloud Connector seamlessly integrates applications hosted in public or private clouds, as well as applications and data hosted on premises by codeless data synchronization - without the need to modify the data sources or open the corporate network for the internet. It directly empowers departmental subject matter experts and reduces the dependency on corporate IT, helping teams to get things done faster. They don't need to be experts in web services or web security. No cloud installation, system configuration changes, programming or administrative rights are required.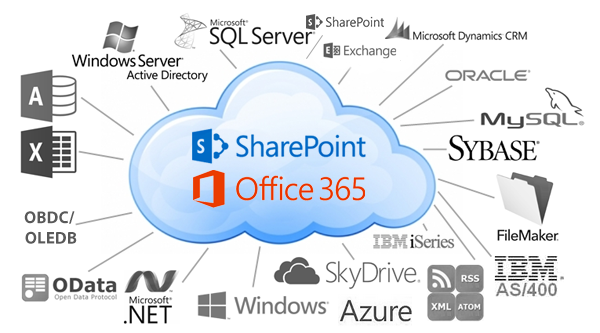 Fig.: The Cloud Connector can connect and sync almost any external data sources with Microsoft SharePoint or Office 365 / OneDrive for Business.
"With the Layer2 Cloud Connector it is not only about connecting the data entities and surfacing the data in the Microsoft cloud, it's about much deeper integration. The connector synchronizes pre-selected subsets of data sources with native SharePoint lists or libraries automatically in background. This straightforward concept makes all SharePoint features fully available for the synchronized data without any restrictions, e.g. for views, search, offline or mobile access, managed metadata, change notifications and workflows", Frank Daske, Product Manager at Layer2, explains the benefits of the connector. "Data synchronization provides a simplified architecture, where users are working with copies of the original source data cached in the cloud, with highest performance and at a maximum security level. No additional user licenses are required for the connected systems, like SQL databases, file shares, ERP/CRM systems, e.g. Dynamics or SAP."
Almost any data sources simply connected to the cloud
The Layer2 Connection Manager, a Microsoft Management Console application snap-in, can be installed on any Windows server or client in the local network or virtually in the cloud as well. To connect to a data source a connection provider, a connection string and a data query (SQL, XPath, OData etc.) must be given. The current version now supports almost any corporate data sources, e.g. databases like Microsoft SQL Server and SQL Azure, MySQL, Oracle, Informix, DB2, AS/400, FileMaker, data files like Excel, Access, Dbase/FoxPro or CSV/XML, applications like Active Directory, or SharePoint (on-premise or cloud-based), ERP/CRM systems like SAP, Navision, Dynamics ERP/CRM or Salesforce, cloud-based services like RSS Feeds, Twitter, Facebook, Google and also generic provider like ODBC, OLEDB, OData or other custom or 3rd party .NET-based provider. File shares, e.g. user's home drives, can be synchronized as well with SharePoint on-premises or online libraries, or OneDrive for Business. V5 now comes with an additional Layer2 Data Provider for Microsoft Exchange to sync Exchange data like contacts, calendar items or tasks, on-premises or online, with otherdata sources.
Free Shareware Edition to download after registration
The Layer2 Cloud Connector comes with a robust installer to be easily deployed with support for 32-bit and 64-bit Windows operating systems. It provides a Connection Manager for configuration as well as a Windows Service for background updates. Specific data providers are included, e.g. for OData (Dynamics CRM and NAV, SAP etc.), XML, File System, SharePoint and Exchange. Already installed 3rd party providers, e.g. for SQL, can also be used.
You can download a completely free Shareware Edition directly at the vendor's product page after registration. To overcome the shareware limitations you can license several different editions, e.g. for private, professional or enterprise requirements. A Software Assurance (SA) is offered to protect the customer's investment with free updates and upgrades, if required.
Partner program for resellers and VAR partners
Layer2 Office 365, Azure and SharePoint apps are successfully used by small, mid-sized, and larger companies and organizations around the world like The Coca-Cola Company, Bauer Inc, IBM, Deloitte, Microsoft, the US Defense Department, NATO, United Nations, leading banking groups and insurance agencies. A cost-free Partner Program was launched to better support resellers and local implementation partners all over the world. Registered partners receive up to 30% commission for each license sale. Additionally partners can receive qualified leads, free NFR Editions for internal use and priority support to accelerate their own cloud projects by implementing Layer2 solutions.
About Layer2
As a Microsoft Gold Certified Partner and ISV based in Hamburg (Germany), Layer2 is one of the leading providers of Microsoft SharePoint, Office 365 and Azure apps in Europe with a major focus on Data Integration, Collaborative Knowledge Management, Social Networking and Cloud Computing. Layer2 has also been known as a reliable partner to customers in Central Europe, offering additional consulting and services in the fields of SharePoint, .NET programming and IT infrastructure for more than 20 years.