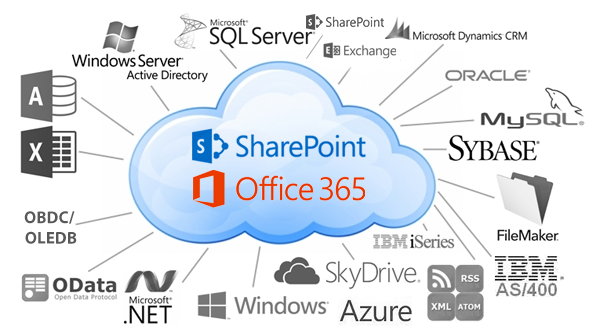 A growing number of cloud-based SaaS applications like Microsoft Office 365, SharePoint Online, Dynamics, and others are offering great features on-demand at an attractive, pay-as-you-go price. But they often create data islands in the cloud - difficult to integrate with the existing IT back-ends and also with other vendor's clouds. The Layer2 Cloud Connector can bridge this gap by integrating a wide range of cloud-based data sources, as well as local on-premises applications like SQL databases, ERP/CRM/CMS systems (for structured content), and network file shares (for unstructured files and documents).
While connections can be generally created without any programming, in addition, version 7 fully supports "Dynamics Columns" based on C# to add data calculations, transformations and customer-specific business logic. The new feature - typically found in high-end data integration tools only - gives customers even more flexibility to keep their data automatically in sync.

Quickly integrate almost any business data sources
The Layer2 Cloud Connector seamlessly integrates apps hosted in public or private clouds, as well as applications and data hosted locally with codeless data synchronization - without the need to modify the connected systems, to open the corporate network for internet access, or to apply programming. The solution reduces the dependency on corporate IT and directly empowers departmental subject matter experts to get things done faster, with significantly reduced complexity, risks, and costs.
"The new Dynamic Columns feature allows users to add their own business logic to connections, e.g. to implement calculations, transformations, or logical conditions directly via C#. It can be used to cleanup data, translate values between different applications, or add metadata to files during upload. Those features are typically required to manage data migration or synchronization to Microsoft SharePoint, Office 365, Dynamics, e.g. from SQL Server, SQL Azure, Oracle, MySQL, PostgreSQL, IBM AS/400, IBM DB2, Informix, SAP and 100+ more via OData, or XML/SOAP web services", Frank Daske, Product Manager at Layer2 explains the new options.
Regional VAR partners can help with implementation
Customers with Software Assurance can profit from the new features with a free upgrade. Prospects can download the Layer2 Cloud Connector after registration as a completely free Shareware Edition on the vendor's homepage. Regional Layer2 VAR partners are ready to support the upgrade process and can provide help to make use of the new Features.