With Microsoft SharePoint portals, collaborative Knowledge Management has become a viable approach to enable organizational intelligence in companies and organizations. Knowledge Management, social networking, and search are the key components to establish a new way of working together. 3rd-party solutions can add even more value to the platform to increase benefits, reduce the risks of customization projects, and highly improve end-user adaption. The Layer2 Knowledge Management Suite now comes with improved content categorization rules, better support for very large document sets, and full support of Microsoft SharePoint Server 2016.
Layer2 can assign accurate and consistent managed metadata automatically to SharePoint internal and external content
The Layer2 Taxonomy Manager for SharePoint improves the out-of-the-box metadata management options of the SharePoint Term Store with advanced import, export, update, and deployment features for term sets based on SKOS. It optionally can add additional content classification rules to terms to better utilize existing metadata for tagging. The Layer2 Tag Suggester for SharePoint makes it as easy to manually assign suggested terms to SharePoint items or documents. The Layer2 Auto Tagger for SharePoint goes far beyond with metadata enrichment: It completely removes the need for manual tagging. The Auto Tagger reduces the risk of incorrect content classification and the burden of tagging for large document sets. Items and documents are classified automatically with consistent and accurate managed metadata. Bulk-tagging, for example to be used after migration projects to SharePoint, as well as real-time tagging during document upload are both supported. The content classification runs locally. No content will be passed to any vendor or Cloud.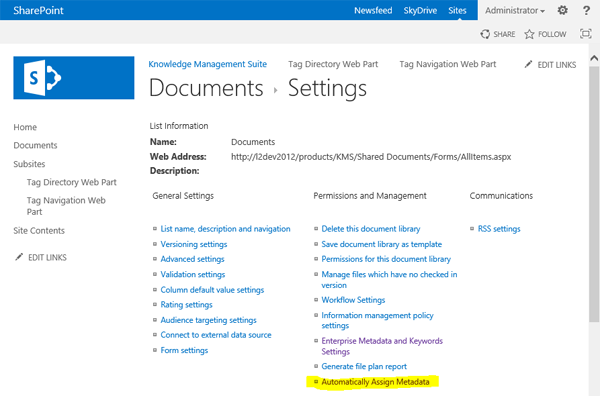 SharePoint metadata navigation and search benefit from content classification to increase findability
Out-of-the-box SharePoint already provides great features to profit from content classification, e.g. metadata-based list filters or facetted search drill-downs. The Layer2 Tag Navigation Web Part, the Layer2 Tag Directory Web Part, and the Layer2 Related Content Web Part add additional content discovery options to SharePoint. Users can simply browse the corporate knowledge - independent of storage locations – in a tree- or glossary-style. Related content can be displayed dynamically based on metadata as already known from consumer shops like Amazon. It is also possible to include external data and document sets into SharePoint Knowledge Management.