SQL Server Codeless Data Integration and Synchronization
Microsoft SQL Server database data can be integrated and synchronized codeless with 100+ external systems, on premises or in the cloud, using the Layer2 Cloud Connector, for example with Office 365, SharePoint, Dynamics, Exchange or Azure. You will find more supported systems and applications here.​​​​​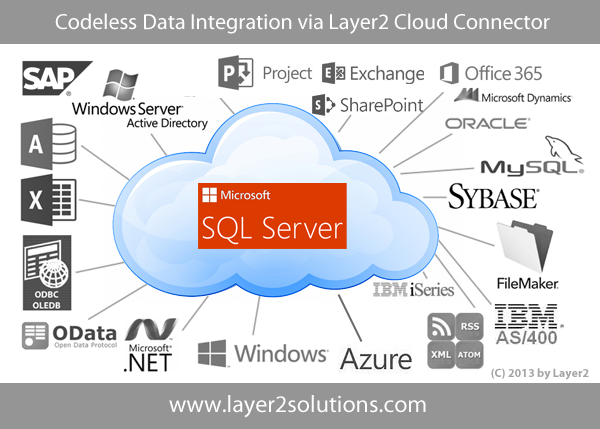 Benefits of Microsoft SQL Server Integration and Synchronization
​SQL Server integration via Layer2 Cloud Connector has the following features and benefits:
Microsoft SQL Server Specific Configuration Settings
In the Layer2 Cloud Connector the data source or destination entity must be configured as follows to connect to Microsoft SQL Server.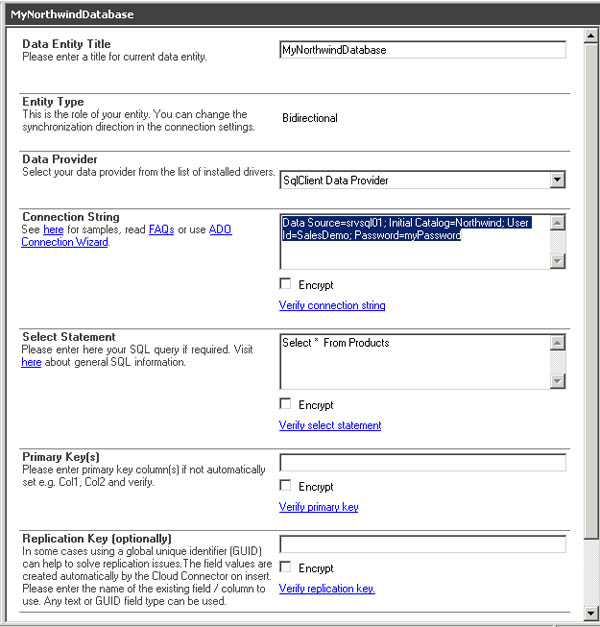 Fig.: SQL Server sample connection in the Layer2 Layer2 Cloud Connector
Please note the following about settings, features and possible issues.
Please select the SQLClient Data Provider from the list of installed providers. If you can't find, please install from Microsoft.
You can make use of any connection strings for SQL Server as usual, e.g.:
Data Source=myServer; User Id=myUser; Password=myPassword.
You will find more information about

SQL Server connection strings here

.
In case of integrated authentication (trusted connection) please make sure that the current user has appropriate database access rights. Also take care about access rights of the Layer2 Cloud Connector Windows Service. Best to use basic authentication with a specific user.
You can make use of all SQL queries your data provider supports. You can also use stored procedures that returns records, exec myStoredProcedure().
You can make use of aliases in query to force auto-mapping in the Cloud Connector, e.g. select customername as title, to auto-map to a SharePoint title column.
Primary key is normally set automatically.
Bi-directional sync is supported.
Do you have any issues to connect? Please contact [email protected] for next steps.
Step-by-Step Intros For Specific SQL Server Integration Scenarios
​You will find more information about specific scenarios here:
Connect and sync Microsoft SQL Server data queries with Dynamics CRM or ERP via OData
Push SQL Server data to Microsoft Exchange for mobile and offline access on any device (BYOD)
Sync web services with SQL Server for better reporting (SSRS)
Please also note this product video at YouTube. Can't find the scenario you are looking for? Please contact [email protected] for help.
SQL Server Integration - Known Issues and Workarounds
​Bi-directional synchronization is generally supported. You query must be updatable for this (note that most joins are not). You also need to have write access rights to SQL for two-way sync.
Complex SharePoint fields like lookups, user or group picker etc. are generally supported. You have to make sure providing values that fit into the fields. If not possible, you can workaround by synchronizing text fields only and add your business logic using triggers and stored procedures (in SQL) or workflows (in SharePoint).
You will learn more about the SQL query language here.
FIND RELATED SOLUTIONS HERE.

Learn more about similar solutions for data migration, backup, integration, and synchronization by vendor and topic.