SAP integration with Office 365 and SharePoint Online: Step-by-step
​The seamless integration of external corporate data is a typical requirement in hybrid cloud-based projects, sometimes not easy to solve. It is not about migration only, it is about integration. And integration is not about displaying data only. It's about FULL integration, e.g. in search, content categorization, change notifications, workflows to start business processes right in the cloud. This article shows how easy full integration is today, e.g. with SAP data and SharePoint Online / Office 365 using the Layer2 Cloud Connector without any coding, just a few minutes of configuration.
The Xtract Universal Provider and the Cloud Connector are used to connect native SharePoint lists directly to SAP data subsets. This solutions help reduce costs, shorten time-to-deployment and increase revenue through more efficient and profitable business interactions. Providing SAP data in native SharePoint lists in the cloud could save license costs as well.
In case you have OData available on SAP (e.g. via SAP NetWeaver), you will find a much simpler and more cost-effective solution to integrate SAP with Office 365 / SharePoint here.
Accessing the SAP system via database table, SAP query, RFC function module or BAPI, ABAP report, BW Cube / Query, Open Hub Service extraction, BI / BW hierarchie or Delta Q
​With the Xtract Universal Designer you can select your SAP access method: Database table, SAP query, RFC function module or BAPI, ABAP report, BW Cube / Query, Open Hub Service extraction, BI / BW hierarchie or Delta Q is supported.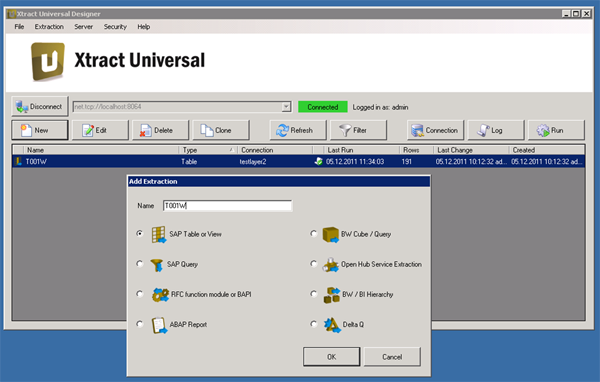 Fig.: Xtract Universal allows many access procedures to the SAP system.
In our sample we will simply use the SAP table or view T101W. You can freely define the fields to expose for SharePoint.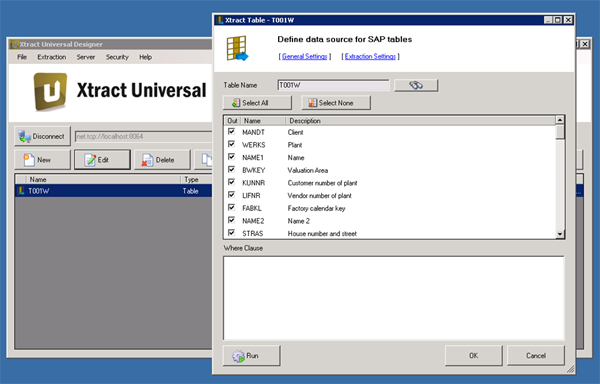 Fig.: Exposed fields can be freely defined with the Xtract Universal Designer
To test your connection and data selection you can preview the data directly in the browser in CSV format.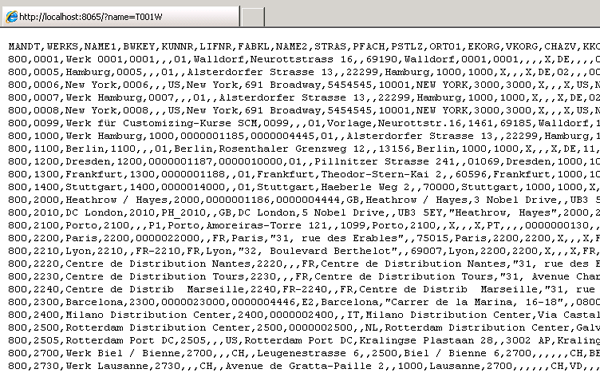 Fig.: SAP data preview directly in browser.
If your data looks fine, you can go the next step.
Create a destination List on the SharePoint side
​To prepare the data destination now go to your SharePoint site in the cloud (or on-premise as well), create a new list manually with the columns required. You can map these columns to SAP fields later on in the Cloud Connector Connection Manager.
Connect SAP and SharePoint using the Cloud Connector
Use the Cloud Connector Connection Manager (a MMC console plug-in) to define your connection as shown below.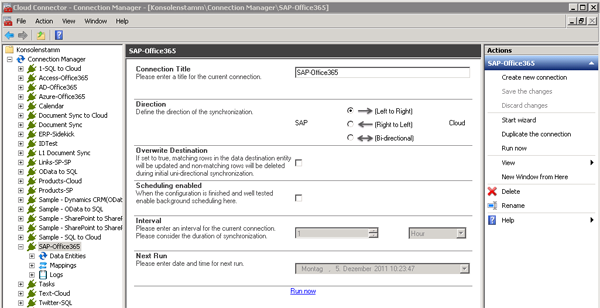 Fig.: Sample connection settings with an uni-directional connection to push data to the Office 365 cloud.
You have to setup both data entities, the SAP side and the SharePoint side. First you have to select the Data Provider, the Xtract Universal ADO.NET Provider in this case. This provider allows access to SAP data using pre-defined data sources in the Xtract Universal Designer. The connection string simply points to the URL of the Xtract Universal Server. Please note the port selected. As a select statement you can simply refer to your model name, T001W in this case.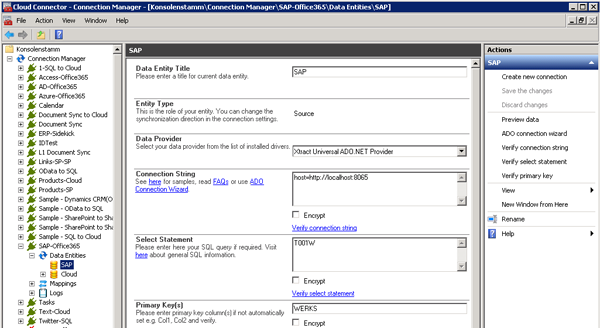 Fig.: SAP data source sample configuration as used in Cloud Connector.
As a next step you have to setup the data destination in the cloud. Please use the previously defined SharePoint list for this. As Provider you have to select the Layer2 SharePoint CSOM Provider in this case. To setup a connection string more detailed, please take a look at the Cloud Connector documentation. In short, you have to provide the URL, Authentication method and access data. Please verify all settings using the links provided.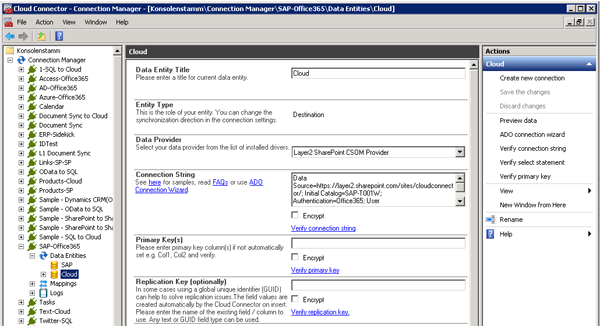 Fig.: Sample SharePoint Online list configuration in Cloud Connector.
Please verify all settings using the links provided. Now you can continue with the field mapping. You can use the auto-mapping feature to automatically map fields of the same name or map manually. Please note the Title field as usual with SharePoint. You can make use of some replication conflict resolution options, if required.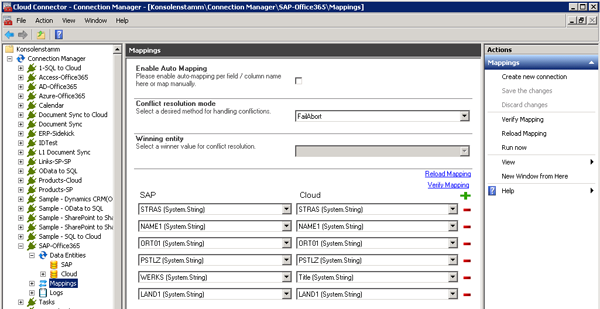 Fig.: Field mapping sample for a SAP to SharePoint connection using the Cloud Connector.
After verifying and saving your settings you should first run the connection manually using the "Run Now" action provided. As a result you have the SAP data in a native SharePoint list in the cloud as shown below.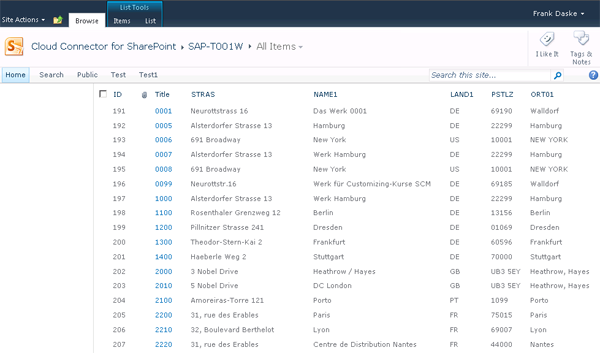 Fig.: Sample list of SAP data connected to SharePoint Online. Please note: That is no web part but a native list with all features available.
Please take a look at the Logs in the Connection Manager to improve, if there are any issues.
What you can do with your SAP data in Office 365
Summary: You can do all what you can normally do with SharePoint lists - because native lists are used to connect to and replicate with SAP.
The known issues and limitations of the Business Connectivity Services (BCS) are completely solved with this solution - ALL list features are available now: Views (global and personal), sorting and grouping, filters, calculated fields, datasheet view, search, enterprise metadata, lookups can be created as usual. You have mobile access as usually supported by Office 365.
Simplified architecture: Users interact with the cloud list data - as some kind of cache - only, no SAP requests involved. The data updates can be scheduled, e.g. daily or every 15 minutes, depending on requirements. Changes only transmitted.
All list types are supported: Contacts, tasks, events, custom lists etc. You can take the external data offline via Outlook and / or Workspace.
You can add additional SharePoint-only columns or attachments to the external data: Documents, comments, ratings, tagging or other Web 2.0 content.
List workflows (SPD-, VS- and Nintex-based) and notifications per RSS or email can be used to take business actions in SharePoint, when external business data records are changed in SAP.
The Cloud Connector additionally makes available your external SAP data source for enterprise metadata management (tagging, content categorization) to use with the new SharePoint 2010 Knowledge Management and Social Networking features without any restrictions.
Works with any list-related SharePoint add-on, e.g. for BI, dashboards etc.
Please read here, what customers think about pros and cons of this product. To know more about Xtract Universal see here.
To register and download the Cloud Connector as free Shareware version see here.
Please note that the connector works in the same way for SharePoint 2010 on-premise or externally hosted sandboxes. SAP is a sample only, you can connect almost any data source, e.g. ODBC, OLEDB, Microsoft .NET based providers, Files (Excel, XML, CSV), SQL databases like MS SQL, SQL Azure, Oracle, MySQL, IBM DB2, IBM AS/400, IBM Informix, Notes, SharePoint (lists and libraries), Exchange, Active Directory, Dynamics NAV/CRM, Navision, Salesforce, Google, Twitter, Facebook etc. and replicate to SharePoint lists and libraries.