Azure Table Storage Integration and Synchronization
Azure Table Storage data can be integrated and synchronized codeless with various other data sources using the Layer2 Cloud Connector. Please take a look here for supported target systems and applications like SQL, Office 365, SharePoint, Exchange, Dynamics and others.​​​​​
​Azure Table Storage offers highly available, massively scalable storage, so that your application can automatically scale to meet user demand. Azure Table storage is Microsoft's NoSQL key/attribute store – it has a schemaless design, making it different from traditional relational databases. With this design it's easy to adapt your data as the needs of your application evolve.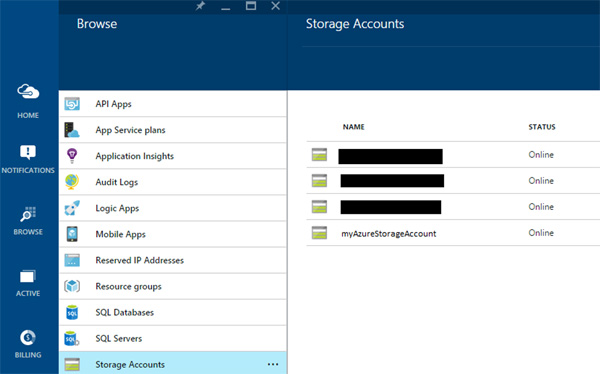 Fig.: Configuring Azure Table Storage in the Microsoft Cloud.
To connect to Azure Table Storage the source entity must be configured as follows in the Layer2 Cloud Connector Connection Manager:

Fig.: Sample connection configuration to connect to Azure Table Storage via Layer2 Cloud Connector.
Azure Table Storage Specific Integration Settings

​Please note the following Azure Table Storage specific settings.
Choose "Azure Table "as Data Provider for your data entity (source and / or destination).
Follow the vendor instructions for setting up the connection string and select statement (see below for samples).
Set the connection string as required, e.g. Account=myStorageAccount; Access Key=myAzureStorageKey.
"autocache=true" cases the provider to always read the live data and not rely on cached data.
Set the data query as required, e.g. SELECT * FROM myAzureStorageTable.
Please ensure that you map PartitionKey and RowKey and that the combination their values is always unique as this is a requirement from Azure Table Storage.
You can map your Azure Table Storage data fields to specific external fields in the Layer2 Cloud Connector. Please take care about data types (simple type conversions are supported).
No installation or changes are required at the Azure Table Storage data source or data destination.
Data synchronization can be started manually in the Connection Manager, per command line or scheduled in background by the Layer2 Cloud Connector Windows Service. Only data changes are processed (no delete / bulk import).
No programming required for setup a connection and sync.
No need to open your local network for access from outside.
Step-by-Step Intros For Codeless Azure Table Storage Integration And Synchronization
Just some ideas what to connect next:
Sync with Microsoft Exchange (on-premises or online) for calendar events and appointments, mobile access and offline availability on any device. Public folders also supported.
Sync with 3rd party tools like ERP/CRM/CMS based on SQL databases like Oracle, mySQL or Microsoft SQL Server.
Sync with Microsoft SharePoint or Office 365 for better collaboration (for example with customers or partners) or for intranet publishing. Change notofications and workflows fully supported.
Integrate with Microsoft Dynamics CRM/ERP/NAV etc.
Connect to SAP via NetWeaver and OData or Hana.
More supported systems and applications to connect with Azure Table Storage.
OAuthClientID=<your_client_id>;
OAuthClientSecret=<your_client_secret>;
InitiateOAuth=GETANDREFRESH;

Select Statement:
SELECT * FROM Messages WHERE ChannelID='CBZVAAE6L' AND SearchTerm Like '';

You can get all available tables with:
SELECT * FROM sys_tables;
You can get all available views with:
SELECT * FROM sys_views;

Find related solutions here.

Learn more about similar solutions for data migration, backup, integration, and synchronization by vendor and topic.