CSV Integration & Synchronization
Comma-separated (CSV) and other text data can be integrated and synchronized codeless with various external systems, on premises or in the cloud, using the Layer2 Cloud Connector.​​​​
​In the Layer2 Cloud Connector the data source or destination entity must be configured as follows to connect to CSV or other text data.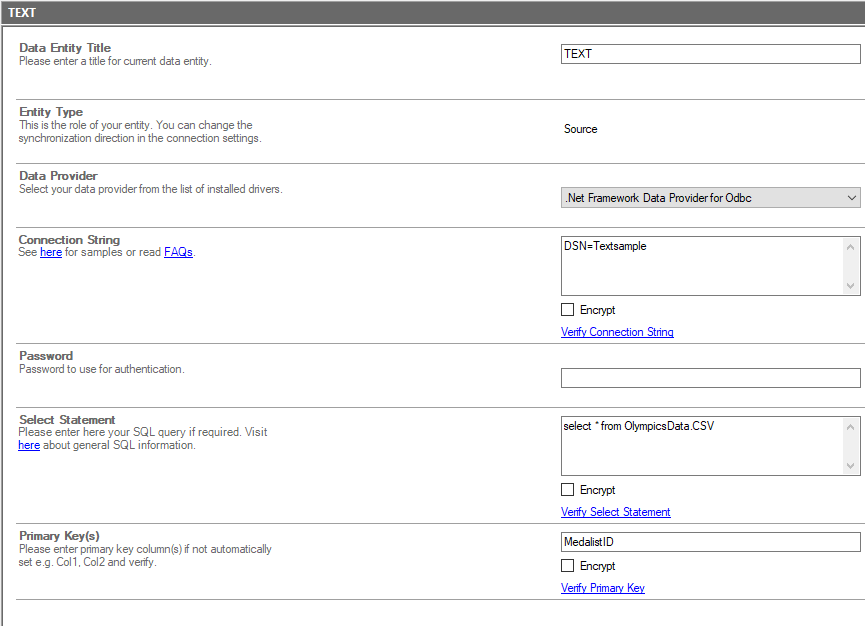 Fig.: Sample configuration to connect to Text/CSV data via ODBC.
CSV and Text Data Specific Configuration Settings
​Please note the following about specific settings, features and possible issues.
Please select ODBC as a data provider from the list. The provider should be installed on any Windows system.
Please configure an ODBC data source to connect to CSV/Text. Please follow this example for more details.
Note that your ODBC System DSN connection must fit to the Layer2 Cloud Connector version (32- or 64-bit).
In the connection string please only refer to the DSN, e.g. DSN=myDSN.
You can query your data source with simple SQL, e.g. select * from myData.csv.
You need a primary key (column with unique values) for synchronization. You can use one column (MedalistID in the sample above) or multiple columns that are unique together: Col1, Col2...
Bi-directional sync is not supported. You cannot write to the CSV/Text data source.
In case of using file shares, please grant appropriate access rights.
Note that you could export data as text/csv from almost any system, e.g. by scripting. This offers a simple and cost effective way for local data integration. It's not about bulk-import on the other end of synchronisation. Only changes are processed for save insert, update, delete in the connected system.
Alternatively, you can use the Progress DataDirect Connect for ODBC Text Driver to connect to flat files.
Do you have any issues to connect? Please contact [email protected] for next steps.
Step-by-Step Intros For Specific CSV/Text Integration Scenarios
​You will find more information about specific scenarios here:
Can't find your scenario here? Please contact [email protected] for next steps.
Find related solutions here.

Learn more about similar solutions for data migration, backup, integration, and synchronization by vendor and topic.